Manchester City captain Vincent Kompany has rejected calls for netting to be introduced at Premier League grounds and demanded that fans "not be treated like animals" after the controversy at the Manchester derby.
Manchester United Rio Ferdinand was hit by a coin and left with blood gushing from his left eyebrow as he celebrated Robin van Persie's stoppage-time winner last week. Ferdinand was left with a bloody eyebrow
PFA chairman Gordon Taylor said clubs should consider erecting netting - common on the continent - to shield players but Kompany said such suggestions were an overreaction.
"I hope actions will be taken but let's not forget where football has come from and how far it has come", he told Football Focus.
"I would definitely say we need action on prevention but keep treating fans as human beings and not animals that have to be behind cages.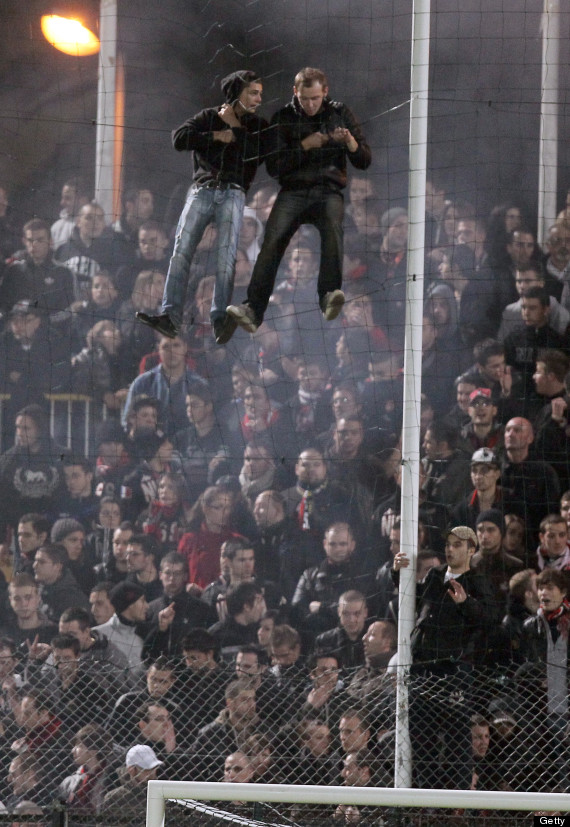 Netting is common on the continent
"I do think we should take action against these incidents and I have heard a lot of suggestions about putting up nets and everything.
"But the fact we are able to put people outside of cages is something that makes the English game so much more special."
The Football Supporters' Federation chairman Malcolm Clarke earlier this week said Taylor's comments were a "knee-jerk reaction".