Eddie Stobart's truckers have banded together to create a trucking version of the popular carol, the 12 days of Christmas, to raise money for Help the Heroes.
The charity single, which goes on sale on Monday, features revised lyrics making light-hearted references to the work Eddie Stobart does in delivering Christmas goods to the nation.
Lines from the song include: 'four frozen turkeys', '10 mince pies' and 'seven spotters spotting'. This Christmas period, alone, Eddie Stobart will deliver 500,000 Christmas trees and 40 million mince pies.
Stobart Group's chief executive William Stobart said in a press release: "The drivers have worked hard recording the song and it's for a very worthwhile cause that is close to the hearts of many of us at Eddie Stobart.
"Help for Heroes does a fantastic job in providing direct support to individuals and their families and we really want the British public to get behind this single and raise as much money as possible to ensure this important work continues."
The trucking company, known to many for its Channel 5 reality tv show, has a close affinity with the armed forces, with more than 10% of Eddie Stobart drivers coming from a military background. Two of the singers, Matt Ekins and Lee Dowling, served together in Bosnia as part of their service with the Royal Logistics Corp.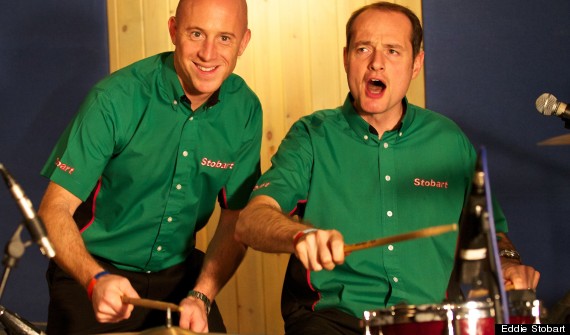 Matt Ekins and Lee Dowling tackle a drum kit
Help for Heroes' co-founder and chief executive, Bryn Parry, said: "Eddie Stobart is an iconic British company and the money it raises will help Help for Heroes provide lifelong support for those who have suffered life changing injuries or illnesses while serving our country."
We've got a sneak peek of the video above - but if you want more you'll be pleased to know the 'making of' the single and accompanying video will feature as part of Channel 5's Eddie Stobart's Christmas Cracker, broadcast on Christmas Eve and Christmas Day.
Eddie Stobart's truckers have stiff competition for the Christmas number one - the X Factor's James Arthur's track 'Impossible' and Sir Paul McCartney's Hillsborough single He Ain't Heavy (He's My Brother), featuring Robbie Williams, Paloma Faith, and Mel C, are currently the two top tips for the festive top spot.