Chris Froome has reiterated his desire to lead Team Sky at the 2013 Tour de France despite Bradley Wiggins opining the British outfit could have "two leaders".
Team Sky coach Dave Braislford gave the strongest hint yet last month Froome, who finished second to Wiggins in this year's Tour, would lead Team Sky with the expectation that Wiggins would compete at the Giro d'Italia.
Froome briefly threatened to attack Wiggins on the final climb before Sky's management angrily ordered him back into line, a flashpoint memorably shown in Sky's recent documentary on Wiggins.
"It's my hope and intention to be the Team Sky team leader at next year's Tour de France," Froome said. "I feel I have shown in my last three Grand Tour rides that I would definitely be a contender to win the 2013 Tour de France and the route plays to my strengths. That is my target.
"But I'm not at all distracted or upset by all the speculation about what Brad might want to do. It's only natural that people will be asking questions of the reigning champion. What is for sure is that it will put us in a much stronger position going into the Tour if we have a plan 'A' and 'B', if we have two hands to play, not one."
Braislford admitted last month the plan had not "completely been signed off" to make Froome leader but suggested "the Tour of Italy would be a very good target for Bradley and leave Froomy then to focus on the Tour de France".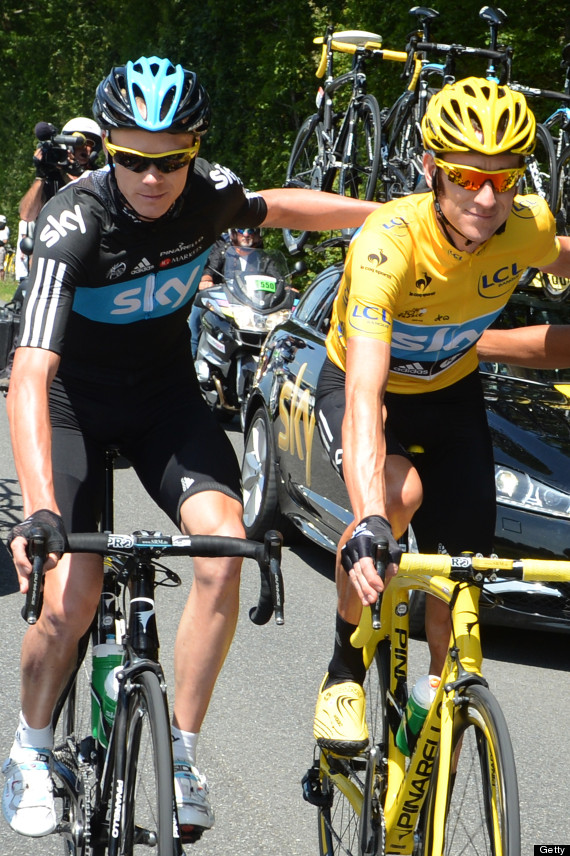 Froome (left) and Wiggins ride together in the last stage of the 2012 Tour
However Wiggins last week said "maybe we'll have two leaders" at next year's 100th Tour.
"How that's going to work with the team I don't know but my goal is to win the Tour next year. Whether that is realised or not, I don't know really."
Froome, 27, also finished runner up on the Vuelta A España and is expected to be Wiggins' heir at Team Sky sooner or later.
Referring to the stage 17 attack, he quashed suggestions he was undermining Wiggins' role but did acknowledge cyclists can get "too greedy".
"All [Wiggins'] big contenders had dropped off, we had got rid of everybody and his mindset was just to keep going and finish the stage and the job. My mindset was to chase Alejandro Valverde up the road to try and win the stage.
"I felt it was a missed opportunity but I also know you can get too greedy. We were first and second in GC and perhaps I was too ambitious, but that's all."