Rupert Murdoch attended the funeral of his mother, Dame Elisabeth on Tuesday, praising her "spirit and her energy" and thanking her for giving him a "life of happiness.
Dame Elisabeth died on December 5th aged 103.
Murdoch, 81, was accompanied to the state memorial service at Melbourne's St Paul's Cathedral by wife Wendi Deng, 44, and 1000 other mourners.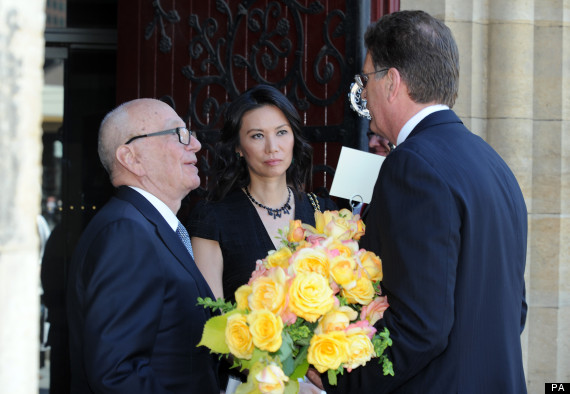 Rupert Murdoch and wife Wendi Deng are presented with yellow Treloar roses by the Victorian Premier Ted Baillieu
Dame Elisabeth was a philanthropist who spent her life working for charities such as the RSPCA and the Royal Children's Hospital in Melbourne.
In an emotional eulogy Murdoch said: ''In many ways she grew up with this nation - through its youthful beginnings, the hardship of war, all the way through to the vibrant society we behold today," reports the Australian.
''In her spirit and her energy, she embodied the finest qualities of this country.''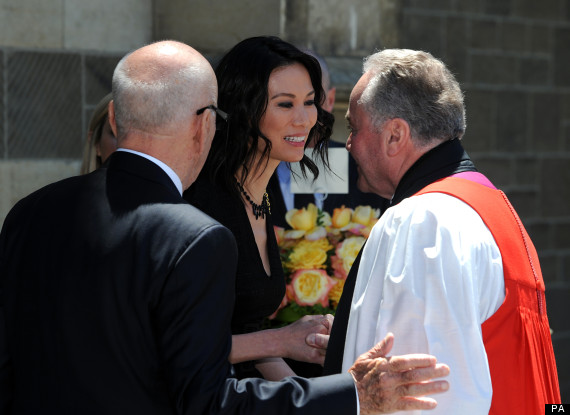 Anglican Archbishop of Melbourne Philip Freier who led the service greets Deng
Dame Elisabeth was married to Sir Keith Murdoch who died in 1952. She never re-married.
Murdoch said: '"Mum lived entirely for him. I know it's not entirely fashionable these days, but mum was never one to let fashion get in the way of what she loved.
''There's a reason my mother never remarried. To her last breath, this beautiful woman never considered herself anything but absolutely in love with my father.'' Murdoch and his mother in 2005
Murdoch also spoke of her effect on him and his siblings.
He said: 'With mum, it was okay to stumble. She just wanted to make sure we understood the gravity of our actions and the impact our choices had on others.''
The ceremony was also attended by four previous state premiers and comedian Barry Humphries.