From Mitt Romney bloopers to the Ikea monkey, there's been blundering politicians and amazing animals caught on camera this year.
Binders full of women, the ridiculously photogenic guy, smug Obama, and the grumpy cat are memes we've come to know and love in 2012.
But there were more serious moments too. Heart wrenching moments from war-torn terrorities around the world. Images of tragedy as well as awe-inspiring shots of communities pulling together in the face of disasters.
Take a look as some of the most shared images of 2012 below.
January: The sinking of the Costa Concordia
When the ill-fated cruise liner ran aground off the island of Giglio, it was a tragedy that made news headlines around the world.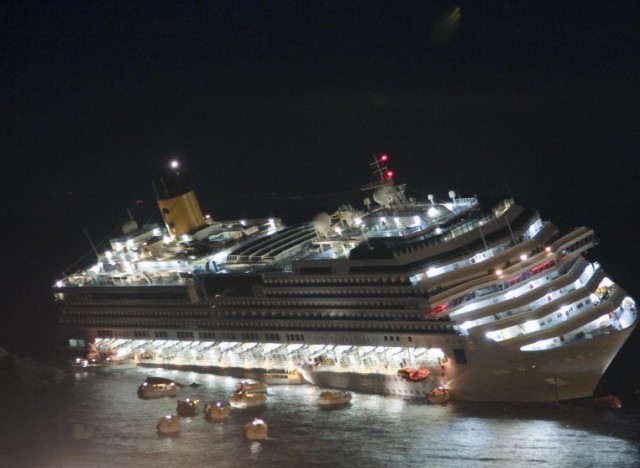 The Costa Concordia just hours after it struck rocks off the Italian island of Giglio
Pictures of the sinking ship appeared around the world, showing the liner semi-submerged in the surrounding sea.
However in January the first pictures to show the cruise liner in the early hours of the tragedy were released, in dramatic images that quickly spread across the internet.
February: A possum in the pastries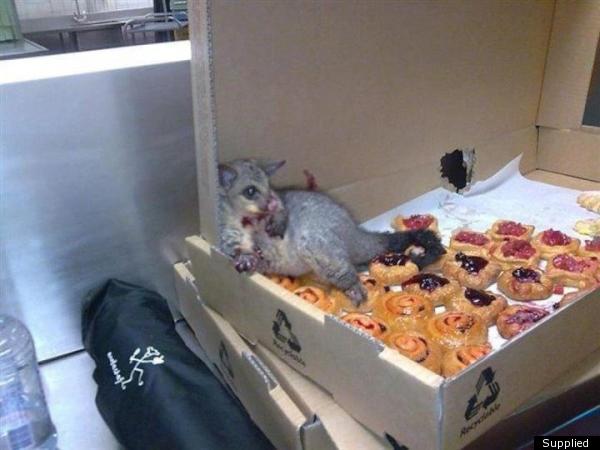 The greedy possum
An image of a greedy possum slumped in a box of pastries after breaking into a bakery in Australia went viral. Perhaps it was because we'd all been there, but this great sugar lump was the toast of Twitter and Facebook.
But the coos turned to questions as accusations of Photoshoppery began to fly. Although blogger Petra Starke at justb donned her Sherlock Holmes hat and investigated the mysterious case. She came to a dead in March.
What do you think?
March: Prince Harry and Usain Bolt Harry: what a legend
Everyone's favourite ginger royal raced Olympic legend Usain Bolt during a Diamond Jubileee tour to Jamaica in March. The 28-year-old's sense of humour and sheer exuberance on his West Indies tour meant no one was really surprised when those naked pictures of Harry in a vegas hotel room came out. Oh Harry...
April: Huffington Post UK offices evacuated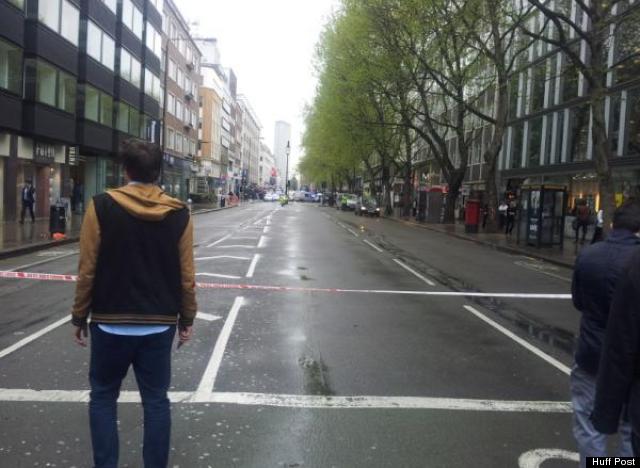 TCR quickly began trending on Twitter
The Huffington Post UK building was evacuated after a man wearing a gas canister threatened to blow himself up in the adjoining building. The incident quickly trended on Twitter as the whole of Tottenham Court road was cordoned off.
July: Andy Wimbledon crying at Wimbledon
The Scottish tennis champion surprised the stands by delivering an emotional speech after losing to Roger Federer at Wimbledon. An emotional Murray belied his detractors
Although he didn't give fans the result they had hoped for, it seemed that many were as impressed by his sportsmanship and emotion as they would have been by a victory. Victory he basked in late in the year after becoming the first British man to win a grand slam singles title for 76 years at the US Open. He also won an Olympic gold medal.
Of course his teary speech also gave a gift to headline writers, as The Crying Scotsman screamed from the Newstands.
June: Angela Merkel thinks we're at work
Pictures of this fantastic flag went viral on Twitter after Limerick lads Gerry Nolan, Richie Tuohy, Richie Leahy, Eoin Cantwell and Eoin O'Brien posted it on the social networking site on their way to Prague.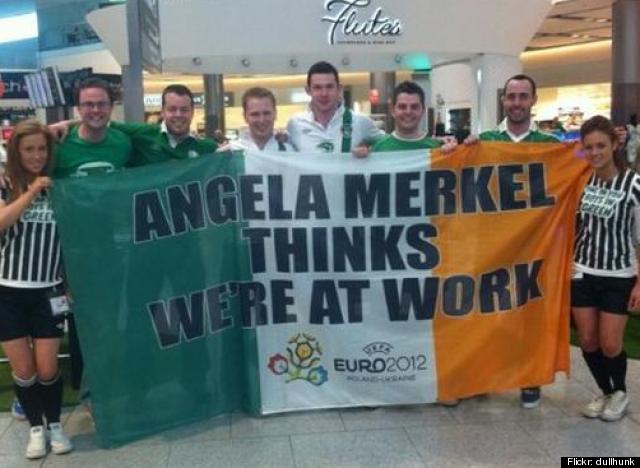 The father of a three-year-old boy with cancer spotted the snap and posted his own flag back showing his sick son Oscar Knox holding up one saying "me ma thinks I'm in bed."
The boys then sold the flag at auction raising 15,800 euros for the Children's Medical and Research Foundation in Dublin and the Oscar Appeal, whose form of cancer is extremely rare.
August: Boris on a zipwire
Boris has to be the most internet friendly mayor of London ever With his freshly hatched chicken locks and bumbling style, Bozza makes even the most driest of political announcements a rambunctious roar through the most expressive idioms of the 19th century. So when boris got stuck on a zipwire.. well.. you know the rest of the story.
Not long after the news of Boris's predicament broke, the internet went to work:
article continues below
September: Athritic dog cradled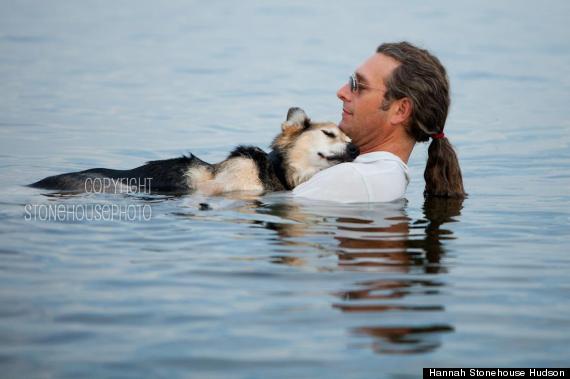 Tender: John Unger gently cradles Schoep in the warm waters of Lake Superior
An owner tenderly cradling his arthritic dog in the warm waters of a lake to lull him to sleep went viral and prompted a staggering outpouring of love.
After the image of Unger went viral, an outpouring of online donations meant that by Septmber Unger was able to afford treatments to help alleviate his dog's condition. Unger is now cherishing his newfound time with Schoep. Ah the power of the internet.
October: 'I am Malala'
Pakistani schoolgirl Malala Yousafzai was shot and wounded by a Taliban gunman on her way to school for speaking out on women's right to an to education under the oppressive regime. Malala vigils were held around the world
Thousands of people from around the world posted messages of support for the schoolgirl on the University Hospitals Birmingham NHS Foundation Trust website. Dozens of vigils were held, people holding signs that declared 'I am Malala' in solidarity with the schoolgirl's cause.
November: Four more years
Barack Obama smashed a Twitter record as he became the first president to declare victory in an election on the social network.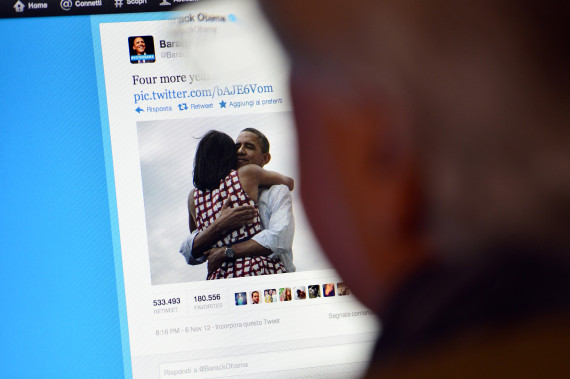 This picture posted on Obama's twitter page became the most retweeted picture of all time.
His triumphant message was simple: "Four More Years". The picture of him embracing his wife Michelle became the most tweeted picture ever.
December: the Ikea Monkey
When a tiny monkey in a shearling escaped in Ikea, the internet crowed. Now people are buying Ikea monkey coats, getting Ikea monkey tattoos... Ikea monkey is really the gift that keeps on giving.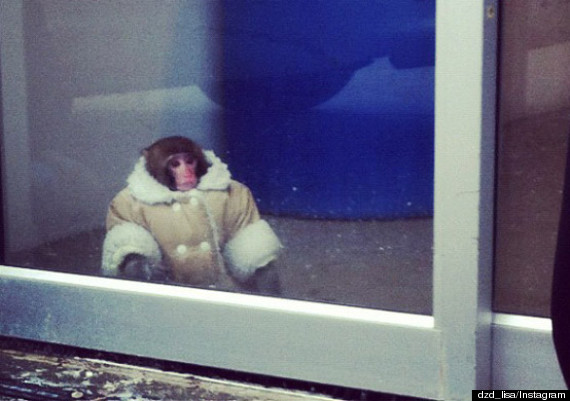 Darwin was pictured peering wistfully through the window of the Toronto Ikea store
Unfortunately Darwin (said monkey) was confiscated from his owner real-estate lawyer Yasmin Nakhuda after the Ikea episode.
She has now released videos of Darwin brushing his teeth, wearing dungarees and sucking a dummy, filmed by his doting owner who desperately wants him back. We love Darwin!
Take a look at some more pictures of the viral shots of the year below