At the end of a quiet tree-lined street in Salisbury, where cheerful wreaths adorn the Georgian houses in one of Britain's most affluent towns, there are starving people queuing for food.
Working families, disabled people, single mothers and those in crisis come to this picturesque church to receive a bag of basics from the Trussell Trust's Wiltshire base, to last them through Christmas. Some receive biscuits, some chocolate, a festive treat.
Trussell Trust, the UK's biggest network of food banks which give food parcels to the country's neediest, will give emergency food to over 15,000 over two weeks of Christmas this year.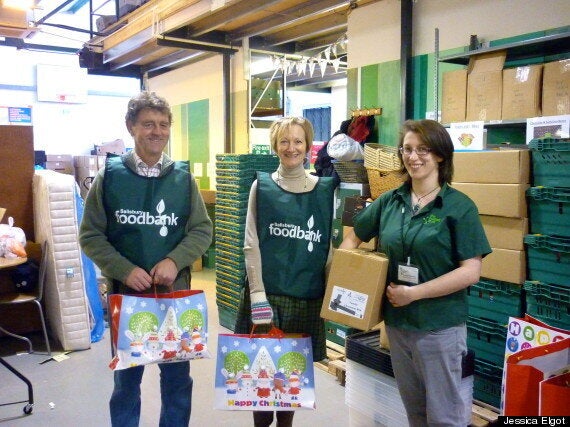 Volunteers Hugh Mullens and Sally Hewitt, with Salisbury food bank manager Louise Wratten
During that period last year, they fed 8,500 people.
It could be those whose benefits have been delayed, for those too sick or out of work, those for whom Christmas just means sliding further into murderous debt, and even those who are in work struggling on low pay or feeling the effects of contract work shrinking over December.
Penny Hayes, 58, is helping to pack the arrivals' food into bags, selecting packets of pasta or noodles, tins of vegetables. She began volunteering 10 years ago, but says this is the busiest time of year,
"I see more and more people with benefit delay problems, people who are absolutely desperate, really tearing their hair out. They have tried everything, they are told they will get a phone call and they never do, they go back, the same thing happens again.
"But some people are actually in work, that's the hardest of all, and they are still unable to make ends meet. We do see people in serious debt, maybe victims of loan sharks.
"We see a huge increase in numbers over Christmas, people desperate because they can't buy children a present. We give them little sweets, crackers, calendars.
"And people do get very lonely. A very nice man was here the other day, who was divorced, living in a hostel on his own, around Christmas, he was just desperate to talk to someone, anyone."
The festive food bank box could be the only Christmas gift a parent or their children receive.
Donated bars of chocolate could be wrapped and given to children on Christmas morning, perhaps with a jumper, so parents don't have to switch on the heating.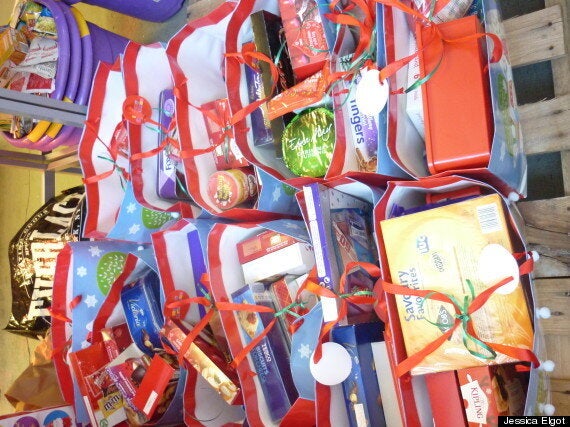 Christmas gift bags at the Trussell Trust, which will be given to people in need
Louise Wratten, who runs the Trussell Trust's Salisbury Food Bank, has seen demand erupt during the recession. "We fed over 4,000 people in Salisbury over the last financial year, which was doubled in two years.
"And there's a significant increase. Nationwide last year it was over 120,000 people we fed. And this financial year, we've already fed that many, with four-and-a-half months to go.
"When I started here, we had 67 food banks, now there are 280 plus, that's in two years."
"Those who are on lower incomes are taking a larger personal proportion of the burden than those who are on higher incomes. And that's the consequence of political decisions [by the government]," he said.
Molly Hodson, the charity's spokeswoman, who overseas operations nationwide, told The Huffington Post UK: "The recession has made a huge impact on the numbers of clients coming here. There's been up to a 30% increase, year-on-year."
On the warehouse floor, volunteers are diligently sorting through Christmas donations from food drives and community organisations, weighing and labelling tins of beans, tomatoes, sweetcorn, custard and bags of pasta and rice.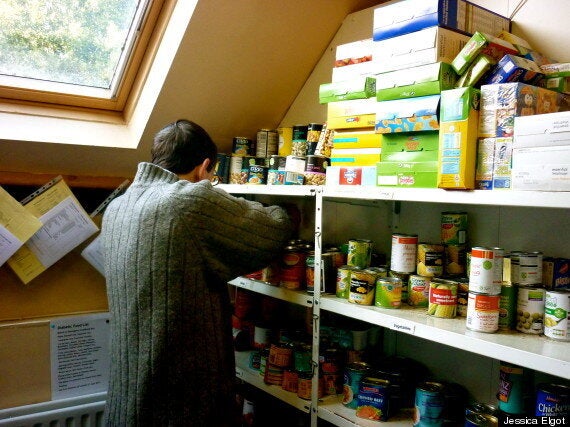 A volunteer packs a food parcel at the Salisbury food bank
Wobbly towers of Christmas pudding fill a corner, and boxes of mince pies are meticulously calculated.
Wratten said: "It's nothing like the normal food boxes. Our normal boxes are designed to be healthy and nutritious but we feel like, you know, these families, will not be able to benefit from what we take for granted at Christmas.
"People sometimes say to us, why do you put chocolate in a food box? But a small piece of chocolate can really help a struggling parent, who has nothing else to give their kids.
"If you hold up a chocolate, you have a child's attention. If you are feeding your kids porridge three times a day, a chocolate bar has so much value, much more than the nutritious value."
FOOD BANKS IN BRITAIN

Trussell Trust foodbanks have fed over 180,000 people since April 2012.
Trussell Trust foodbanks fed 128,697 in the entire 2011-12 financial year.
The Trussell Trust is opening 3 new foodbanks every week.
At the beginning of December 2011 The Trussell Trust had launched 149 foodbanks nationwide, we now have 292 launched nationwide: almost doubling the number of foodbanks in the last year.
Trussell Trust foodbanks will give emergency food to over 15,000 over two weeks of Christmas.
During that period in 2011, the trust fed 8,500 people.
Salisbury is the heartland of the Trussell Trust, the home town of founders Paddy and Carol Henderson, who founded the charity in a garden shed in 1997.
The expansion has been dramatic, with hundreds opening across the country. Here in Salisbury, the charity is part of the fabric of the community, Wratten said.
She added: "So many people who need to use the food bank actually think of themselves as someone who gives to the food bank, not who receives.
"I spoke to a lady recently, who had to explain to her little boy why the food he had donated at Harvest festival was coming back to the family.
"But that family were really struggling, the father was ill and out of work, with no sick pay, his mum has a job which doesn't start until January, after Christmas.
"Many of the people we see are in work. And this time of year is especially hard because this time of year the hours are drying up, people in the construction industry for example.
"If you are working, but not getting enough to make ends meet suddenly, or your bill goes up, or your car breaks down, it tips you over the edge.
"A lady came in last week who had walked 16 miles to get to us. We gave her a lift back, of course. She had to come in to sign on. And she's going to have to do it every week."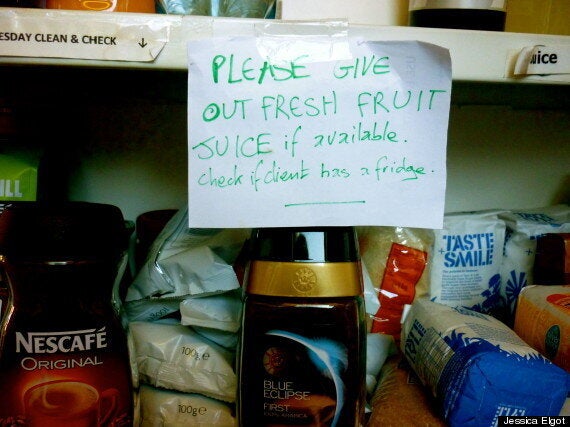 One of the signs up behind the counter at the food bank
The charity has a three-voucher limit, Wratten says, "we can't encourage dependency, it's an emergency service. They have to deal with the underlying issue. A voucher gets you a food box which lasts three days.
"We are replenishing faster and faster in December. And every day you hear, amilies are living in one room to save fuel, children are getting jumpers to Christmas so their parents can save the gas bill.
"Parents will go without food to buy their kids something for Christmas. They tell their kids they are eating later."
The military operation at the warehouse makes the food bank itself, in a nearby church, seem like an oasis of calm. Tables are set with chequered cloths, carols play in the background.
Hodson said the friendly atmosphere was the intention. "There's a lot of effort that's gone into to remove the stigma.
"We give it to people with carrier bags to take it home, so it looks like they've just been shopping.
"This is about solving an immediate crisis, we don't want people to lose their home or children or relationship just before Christmas because of a sudden financial disaster."
Around the tables, recipients of the food parcels look on, given tea, coffee, soup and toasties. One is a mother whose child is playing with a toy car, one is a nervous young man, fidgety, with drawn cheekbones, a crowd of three teenagers also arrives.
Gemma, a 24-year-old, is collecting her second food bank emergency package of the year. "I'm going to use the food for over Christmas and New Year, conserve it all," she says.
"Most of it is useful, but sometime the tins need you to have something else to go with what's in them, and it's not useful if your cupboards are bare. I can end up eat the sweetcorn, or the custard out of the tin.
"I'm dreading this time of year, I've put off thinking about it. I was hoping to be able to get a little something for everybody, but they won't be getting anything this year from me.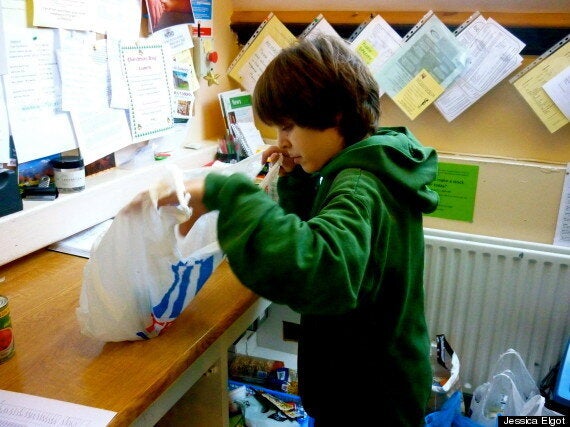 Charlie James, the charity's longest-serving volunteer
Her benefits have been delayed for two weeks, leaving her with nothing to buy food. Even when they arrive, Gemma, who is disabled, barely has £25 "on a good week" to spend on necessities after her bills are paid.
The charity's longest-serving volunteer, Charlie James, 24, said benefit delays were an increasing, worrying problem which she had noticed in her 12 years at the charity.
"You get such a mix of people, people working who can't afford to pay the bills on their little salary, some people who have their benefits cut off suddenly, and delay to their benefits.
"Some of the stories have been so sad. One man had cancer, and he still had to keep coming to the food bank."