Helen Flanagan has apologised for posting a photograph of herself with a gun against her head on Twitter.
The actress - who came under fire after she uploaded the snap shortly after the US school shootings - appeared on this morning's 'Daybreak' saying 'it was the stupidest thing I've ever done in my life'.
She has since removed the photo, which was taken in October, and explained the tweet was "out of context".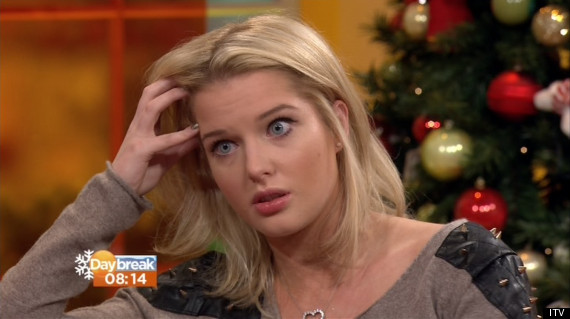 The former 'Corrie' star appeared on this morning's 'Daybreak'
Speaking on ITV1's 'Daybreak', the 'I'm A Celebrity' star said: "Sorry, it just gets me so upset. It was just a completely out of context tweet, completely.
"I did the tweet and it was some different pictures in one and it was relating to a hangover on Monday night. And I put something like, oh head…you know, and I treated this picture completely carelessly, like it was the stupidest thing I've ever done in my life.
"It was just relating to a hangover that I had and then I tweeted it and I started getting all these reactions of, 'how insensitive, how could you do this?', and I just felt sick.
"I just deleted it straight away, I rang my best friend and I was like, 'I can't believe what I've just done', and I said to her, 'shall I reply to these saying how sorry I am?' And then I thought no, it will just draw attention to the fact of what I've done – it's so humiliating.
"And on Tuesday nothing was said of it, it was fine, and then on Wednesday morning I woke up to see that and I was just absolutely, unbelievably just shattered, just mortified by it."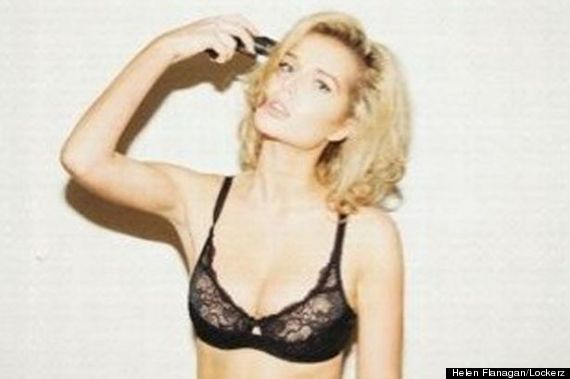 Helen has since removed the offending pic
Asked if she could understand why people reacted so strongly to her post, she said: "Absolutely, I absolutely hated myself for it. I am incredibly sorry and I couldn't be more sorry.
"And I tweeted it completely out of context – it was just about this hangover and it was never, I mean I really do – my heart bleeds for all the families."
"I think what I did was ridiculously stupid… it was the stupidest thing I've ever done – I would never, ever want to hurt anyone."
HUFFPOST UK CELEB ON FACEBOOK | FOLLOW US ON TWITTER
"I take responsibility for my actions, I shouldn't have tweeted that picture on Monday night even though it was referring to a hangover and I am so, so sorry but I just want people to genuinely know how sorry I am and it really has affected me.
"I am absolutely devastated by it and I'm very, very sorry, especially if it's hurt any of the families."

href="http://www.huffingtonpost.co.uk/2012/11/06/huffpost-celeb-awards-201_n_2082275.html" target="_hplink">VOTE IN THE 2012 HUFFPOST CELEB AWARDS