This summer we gasped as 7,500 volunteers performed simultaneously to create Danny Boyle's Olympic opening ceremony.
Meanwhile, behind the closed doors of North Korea, anyone who managed to get around the Communist state's heavy media censorship to watch may have been slightly less impressed.
The reason is that twice a year, in the world's largest stadium in Pyongyang, a mass public celebration called Arirang requires no less than 50,000 young people to work in perfect tandem to celebrate their 'Eternal Leader'.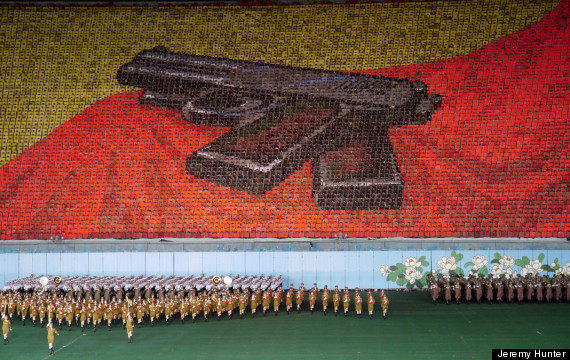 Kim Il-Sung's Revolver
An exercise in government propaganda on an almost unthinkable scale, Arirang is marked by the young performers holding flipcharts of more than 150 unique pages that they switch between seamlessly to create giant mosaics.
The images chart the history of Korea, from the colonial times of Japanese occupation through the present day, and even the future.
Award-winning photographer Jeremy Hunter witnessed Arirang firsthand, and the images he took are set to go on display at London's ATLAS Gallery in January.
It's a beguiling project. At first glance the mosaics are just as beautiful, and the effort involved just as impressive as anything we saw at the Olympics.
Then you remember that the thousands of children involved were put through rigid and disciplined training regimes for over six months, all in the name aggrandizing a government that in many ways oppresses them.
Take a look at this selection of Hunter's photos below to learn more about the North Korea and the ceremony.
North Korea Propaganda Art