Fresh floods and heavy rain has prompted train cancellations across the country, with fire-fighters saying they are inundated with requests from those needing to be rescued.
A father and a daughter were among six people who needed to be saved from cars in Fareham, Brockenhurst, Ringwood, Wallington and Waterlooville, after their porsche got submerged in water, reports the BBC.
In the riverside town of Bewdley in Worcestershire, on the banks of the Severn, flood defences were put up, and at Upton-upon-Severn existing flood barriers were being monitored with the river predicted to keep rising.
The Environment Agency (EA) said large swathes of southern and south-western England, south-east Wales and the Midlands were potentially under threat.
Flood warnings are in place in the South West, the South East and East Anglia, the EA said. Fire fighters prepare to pump water from a beck in November, when the UK was faced with flooding
River levels on the River Cober in Helston, Cornwall, are high after persistent rain yesterday, while the Dolphins River Park in Charmouth, west Dorset, is under threat from the River Char.
The River Wey in Weymouth, Dorset, is rising, the EA said, and the Somerset Levels also face risk of flooding due to heavy rainfall of up to 20mm over last night on already saturated ground.
Forecasters said the heavy rain would ease off in the South West on Thursday evening and it would be dry Friday, but warned the weather across the whole country is likely to remain unsettled for up to seven days. A car makes its way along a flooded road in Seaham as parts of the UK are braced for further flooding
Andy Ratcliffe, a forecaster for MeteoGroup, the weather division of the Press Association, said: "Tomorrow it will largely be dry in the South West, but by the evening the next band of rain will move in.
"That will stay throughout the weekend and into next week."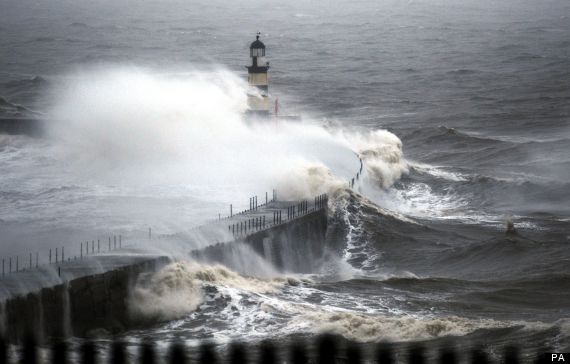 Waves crash into the sea wall at Seaham Harbour as parts of the UK are braced for further flooding
Areas of England and Wales were last month engulfed by flood water that surged through streets and down roads, cutting off whole communities and forcing dozens to flee their homes.
Rivers burst their banks and fields were flooded as several days' rain fell in just a few hours.
With the possibility of more flooding on the way, people are being urged to keep up to date with the latest information from the EA's website, sign up to free flood warnings, check their route for disruption before travelling, and not to drive or walk through floodwater.
Craig Woolhouse, flood risk manager at the Environment Agency, said: "Our teams are out around the clock to minimise the risks and prepare for flooding, clearing drainage channels and ensuring that flood defences are working properly.
"We urge people to keep up to date with the weather forecast and local news overnight and remain prepared for flooding in their area by signing up to receive free flood warnings and staying away from dangerous flood water."
Those in areas at risk should check the Environment Agency website for the latest information: www.environment-agency.gov.uk/flood and sign up for free flood warnings on the Environment Agency's website, or by calling the Environment Agency Flood Line on 0845 988 1188.
But there has been no repeat of the scenes of late November, when dozens of people had to be evacuated from their homes as floodwater surged down narrow streets and floodplains saturated, causing millions of pounds of damage.
A police spokesman said: "Thankfully we are not experiencing the level of flooding we saw a few weeks ago.
"There aren't reports of widespread flooding to residential properties.
"It seems that a lot of motorists have learned the lessons from last time, too. People are taking greater care on the roads."
Cornwall Council said more than 100 members of its staff were involved in dealing with flood-related calls overnight Wednesday and throughout Thursday.
The majority of them related to surface water flooding on some roads.
A council spokesman said a man became trapped after driving over a humpback bridge crossing the Bude Canal in north Cornwall.
He said: "The man managed to get out of his car but, as he was surrounded by fast-flowing and rising water, he called the fire service for help. When firefighters arrived on the scene, the swift water rescue team reached the man and escorted him to safety."
In a warning ahead of further expected disruption, he added: "Members of the public are being advised to avoid driving though roads which have been flooded, as this could not only be dangerous for drivers, but could also create waves which could push floodwater into people's homes and businesses."