A council's plan to sell a Henry Moore sculpture has hit a snag as another local authority has said it owns it.
Lutfur Rahman, mayor of Tower Hamlets in east London, decided to sell Draped Seated Woman to claw back money lost in budget cuts.
The sculpture, known as Old Flo, was originally sold to London County Council by Moore at a below-market price in the 1960s on the understanding it would be placed in east London.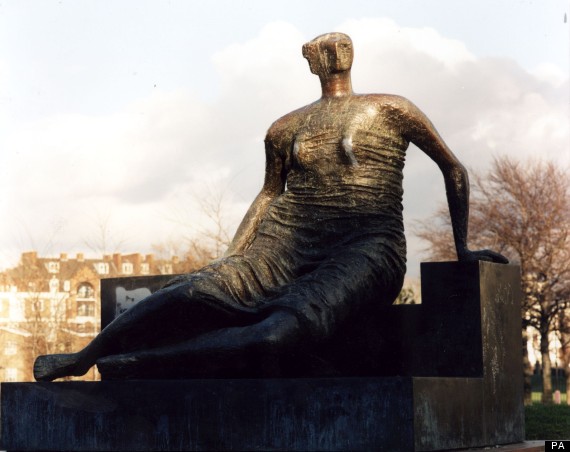 Old Flo: who really owns her?
Tower Hamlets assumed responsibility for it after Greater London Council (GLC), which replaced the LCC, was abolished, and it has been loaned to Yorkshire Sculpture Park for the last 15 years.
But now the London Borough of Bromley has written to Tower Hamlets to say it owns it.
It said the sculpture remained the property of the GLC until its dissolution in 1985 and was then transferred to Bromley.
Stephen Carr, leader of Bromley Council, said: "This sculpture must remain in public ownership which is line with the original principles of Henry Moore himself.
"The idea that selling this internationally recognised sculpture will somehow tackle the financial situation facing Tower Hamlets is flawed. Local authorities need to face financial reality and look at the longer-term challenges.
"The monies raised would not protect frontline services for very long and would stop future generations appreciating this national treasure."
Leading figures from the art world such as film director Danny Boyle, Henry Moore's daughter Mary and Tate boss Sir Nicholas Serota oppose the sale. London Mayor Boris Johnson has also urged Tower Hamlets to reconsider.
Stephen Deuchar, director of the Art Fund, said Bromley's evidence should stop "Tower Hamlets's cavalier plans" going ahead.
Tower Hamlets Council has acknowledged it was a tough decision but one which was made due to the "massive Government cuts we are facing".
A spokeswoman for Tower Hamlets council said it had received a letter from Bromley disputing the statue's ownership, but said it did not "have any right to the asset".
She said: "Bromley maintain in their letter that the asset was acquired for Londoners as a whole. However, we have checked the minutes of the LCC General Purposes Committee for May 15 1962 which authorised the purchase and these specifically state that the statue was 'to be sited in Stifford Estate (Stepney)'.
"Old Flo was placed on the Stifford Estate in 1962 and remained there until demolition works on the estate when she was placed in the Yorkshire Sculpture Park.
"There is no dispute between any of the parties that the Stifford Estate transferred to Tower Hamlets during local government reorganisation."