People hit by flooding face a bleak Christmas with a week of further rain threatening further holiday misery.
Rail routes across the country will be under increasing pressure as people who were unable to travel on Saturday will add to already heaving services as they attempt to reschedule their journeys.
Dozens of routes have been affected by heavy rain in recent days, and flooding has been so bad in the South West that First Great Western is advising passengers with non-essential journeys not to travel on trains or replacement buses in the area at all, because of flooding and poor road conditions.
Tony Conlan, a forecaster with Meteogroup, said while the rain would not be as heavy as that which has already fallen, it would be landing in areas already saturated with water.
"We certainly haven't heard the last of the flooding stories," he said.
"There is no sign of settled weather on the way for at least the next week."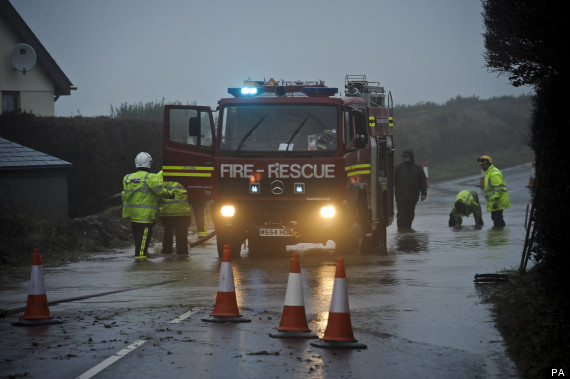 Fire and Rescue services work to clear a section of the A399 in North Devon
Dozens of residents in the South West face Christmas with floodwater in their homes, and communities across the country are on alert as hundreds of flood warnings remain in place.
In Umberleigh, near Barnstaple in Devon, a woman was swept away from her car in the early hours of Sunday after flooding in the area.
A police helicopter found the woman clinging to branches of a tree on the banks of the swollen River Taw, Devon and Cornwall Police said.
Fire crews helped her to safety using a rigid inflatable, and she was treated for exposure to the water.
In the Vale of Glamorgan in south Wales a woman was rescued from her car by passers-by after it was swept into a river in Llancarfan, the BBC said.
The woman was driving through the village when her black Mini ended up in the swollen waterway and began floating backwards with her trapped inside.
Two men smashed the car window using a ladder and pulled her to safety just moments before her car was washed under the bridge and filled with water.
Sam Smith, one of the woman's rescuers, told the BBC, he crawled across the ladder, got the woman out of the car and then with a friend led the woman to safety.
He said: "Once we had got her across we pulled the ladder out of the car, and I suppose about a minute later off it went under the bridge. There is no question, the poor lady would have been drowned, absolutely no question."
The Environment Agency still has one severe flood warning - meaning there is "danger to life" - in place this morning, for the River Cober at Helston in west Cornwall, after heavy rainfall overnight.
There are 182 flood warnings, urging people to take immediate action, across the UK, with the most in the south west and the Midlands. A boy wearing a Christmas hat looks out over a flooded street in the city centre of York
River levels at Lostwithiel and Par in Cornwall were also continuing to drop, and a rest centre at Lostwithiel was closed at 1am, though water is still swamping streets.
The River Trent at Willington, Castle Donnington and Barrow upon Trent in Derbyshire also is imminent danger of flooding, the EA said.
The town of Braunton in north Devon was effectively cut off on Saturday, with homes and shops under water, after the River Caen burst its banks.
Though the River Caen is now falling and rain is clearing, an EA spokesman said the river yesterday breached a section of Braunton's flood defences.
The £1.2m defence scheme was completed in June when the agency said the works meant flooding would be reduced from a one in 20 chance of occurring in any one year to one in 100.
Liz Spear, chairman of Braunton Parish Council, said a river had run through the centre of the town.
"It's disappointing really because the Environment Agency have just spent over £1 million on new flood defence schemes - two flood defence schemes - this year but they've been totally overwhelmed," she said.
Business owners in Caen Street were left surveying the damage this morning.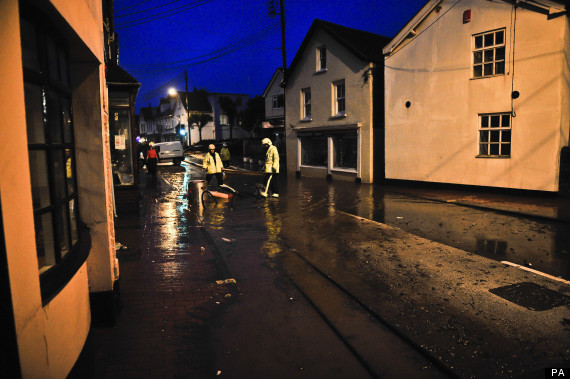 Debris and floodwater still remain in Braunton, North Devon
Emma Beeston, who runs a restaurant in Braunton, said that despite having flood boards and sand bags she had two inches of water throughout her business.
"Ourselves and every other business and lots of homes were under a lot of water for quite a long time," she told the BBC.
"The timing couldn't be any worse for any of us here, really. The start of the Christmas holiday is always a busy time, it is a two-week period.
"There are shops in this village that are not going to get opened for the entire Christmas period. Their stock has all been lost. Towards the middle of Caen Street there was 3ft of water, much of that went into the shops and you can't turn that round overnight.
"Luckily for us we managed to, once the water had receded, get the water out and give it a first mop clean. Unfortunately at 7pm last night the same thing happened again, it re-flooded."
But Ms Beeston promised to fulfil her commitments on Tuesday, saying: "We will be open on Christmas Day for all our customers who are coming."
Fire crews from the Devon and Somerset Fire and Rescue Service said they had a busy night attending several incidents of people caught out by the flood water.
At 12.37am firefighters from South Molton and Torrington in North Devon and a special rescue team were called to help to man, woman and a child after their car became stuck in fast flowing floodwater.
Police and paramedics also attended the incident near Umberleigh Railway Station along with an RNLI boat team and a search and rescue helicopter.
A spokesman for the fire service said: "The occupants in the car were difficult to reach although one male person and one child were rescued by fire service personnel using dry suits.
"The adult female was out of reach and was eventually rescued by the RNLI boat team."
Two hours later a crew from Okehampton were called to Sanders Lane, in Bishops Tawton, near Barnstaple where two elderly women were trapped in their home.
The property was 50 metres from the road and surrounded by three foot of floodwater.
The fire crew and a RNLI in-shore boat rescued the two women who were taken to safety before two further people and two dogs were also rescued from a nearby cottage.