Now Boxing Day is over, we are halfway through the Premier League season so it is time for the, er, halfway stage team of the season.
Featuring a 4-2-3-1 formation (none of that false nonsense), here are the 11 starters...
GOALKEEPER: ASMIR BEGOVIC (STOKE CITY)
This hasn't been a vintage season for goalkeepers, whose regression is mirroring that of the Premier League itself. One who has stood out however is Asmir Begovic, who has conceded just 14 in 19 games. His defence deserve equal credit but the former Portsmouth stopper communicates as well as he does command his penalty area and at 25, the experience he displays belies his relative inexperience. Even Manchester United have enquired about his availability.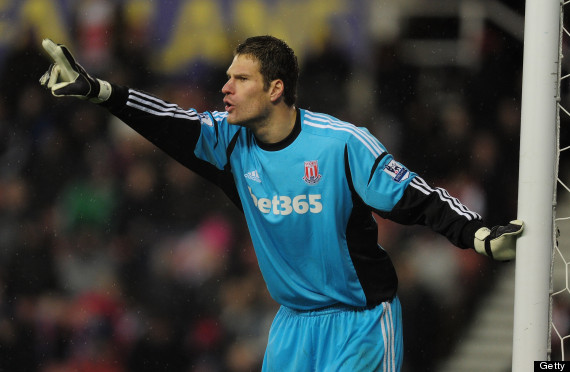 RIGHT-BACK: PABLO ZABALETA (MANCHESTER CITY)
The Manchester clubs are pulling away not only in the league table but in the right-back stakes. Both Pablo Zabaleta and Rafael da Silva have been outstanding this season but the former just edges it due to his side's better defensive record. Rafael has endured a couple of nightmares against Tottenham and especially at Reading as well whereas Zabaleta has rarely been exposed as an opponent so humiliatingly. So reliable he may occasionally switch to left-back to counter an opponent's right-wing resurgence, his impressive attacking contribution should reap more goals.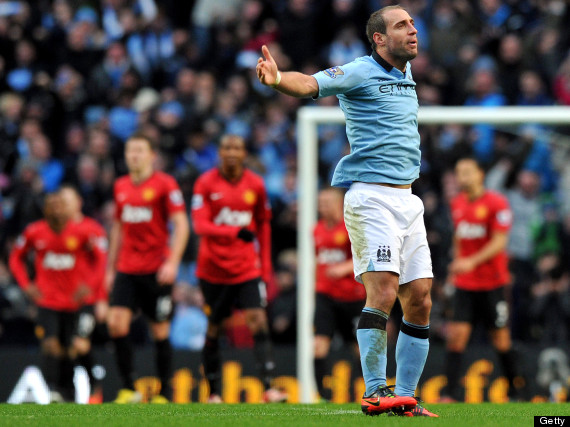 CENTRE-BACK: (SEBASTIEN BASSONG, NORWICH CITY)
The majority of Premier League defences have defended as badly as Lionel Hutz this term but Bassong has emerged as one of the more impressive centre-backs. Critical to Norwich's autumn recovery, he is not only a solid presence but a genuine threat in attack and has scored three goals for the Canaries. Underused by Harry Redknapp at Tottenham, he would be more dependable for André Villas-Boas than the ageing William Gallas. CENTRE-BACK: JAN VERTONGHEN (TOTTENHAM HOTSPUR)
The caveat with Vertonghen's inclusion is that he has played most of the season at left-back, but long-term he is likely to emerge into one of the league's best centre-halves and his performances there already have been excellent. Tottenham have rarely possessed calm figures in their back-line other than Ledley King yet Vertonghen oozes composure. An excellent footballer adept as a defensive midfielder, it was mystifying why more teams were not interested in signing him.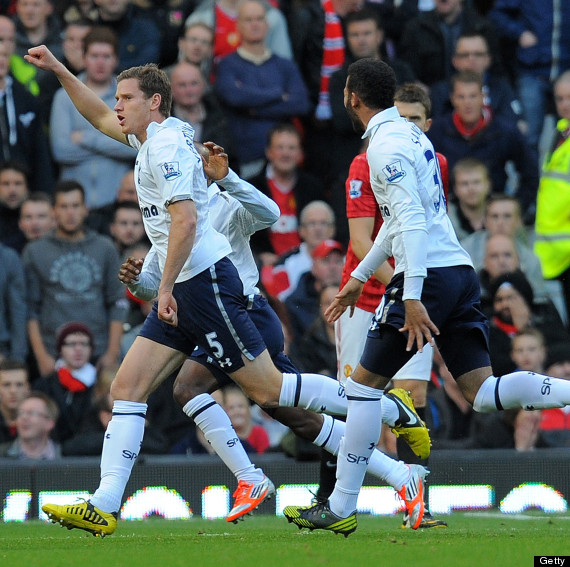 LEFT-BACK: LEIGHTON BAINES (EVERTON)
Who else? One half of the Premier League's best left-sided combination, the Merseysider was once suspect defensively but has improved his positioning in his own third and is not the easy pickings he used to be for right-wingers. Always a threat in attack, that he has scored just twice this season should not mask his importance to, or brilliance for, Everton. MIDFIELD: MOHAMED DIAMÉ (WEST HAM UNITED)
Oft-forgotten during buy of the season conversations, Diamé didn't cost West Ham a penny in transfer fees. Kenny Dalglish apparently had the deal secured to bring him to Liverpool before he was sacked. Woe is Anfield, for so reliant upon Diamé has Sam Allardyce become the decision to rest him against Chelsea backfired horribly as the Hammers were fortunate to find themselves just 1-0 down at half-time. Diamé arrived for the incongruous James Tomkins at half-time and inspired a 3-1 win, smashing in the winner. One of the best emerging box-to-box midfielders in the Premier League. MIDFIELD: MAROUANE FELLAINI (EVERTON)
Currently enjoying a very leisurely Christmas after he introduced Ryan Shawcross to his considerable bouffant, Fellaini has emerged into the consistent talisman he has threatened to be at Everton since he arrived in 2008. The Toffees have been released from the shackles of David Moyes' negativity and the Belgian has thrived more than anyone else. Powerful, skilful and dictatorial, eight goals in 18 appearances is an outstanding return for a midfielder. ATTACK: MICHU (SWANSEA CITY)
Judging by the expertise with which he scored his first goal against Arsenal, it is fair to say Michu won't go down as a one-season wonder like Hamilton Ricard or Michael Ricketts. One of the most prudent pieces of business this century (£2m from Rayo Vallecano), the variety of Michu's goals and his adeptness at either playing at the tip of the arrow or off the frontman makes his cost even more ludicrous. He holds the joint-record for most goals scored by a foreign debutant in the Premier League before Christmas with Sergio Agüero. Sir Alex Ferguson said: "Just £2m and I'd never really heard of him. I should have a word with my scouting department!" He should.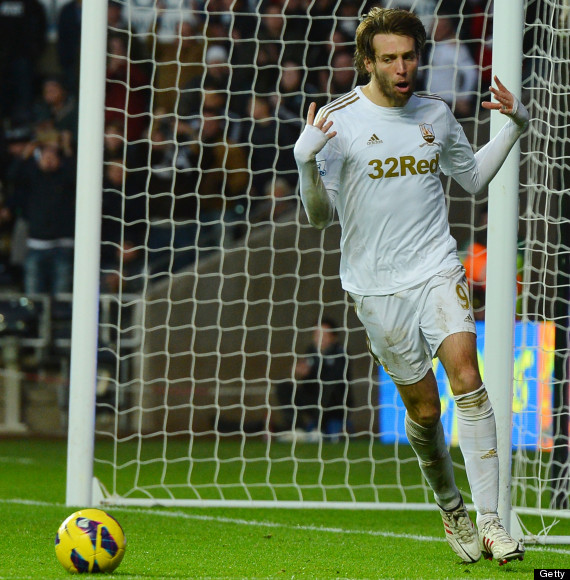 ATTACK: JUAN MATA (CHELSEA)
Like Tom Watson captaining the US Ryder Cup team, Juan Mata is someone you can't help but like among the unlikeables at Chelsea. He seems as intelligent off the pitch (he blogs) as he is on it, which is always going to warm him to us media folk, but his football this season has been a joy to behold. Thirteen goals already and he wasn't even supposed to be the fulcrum of Chelsea's attack after Eden Hazard and Oscar were signed. A serious (if early) contender for player of the year. ATTACK: ROBIN VAN PERSIE (MANCHESTER UNITED)
What is love? Robin van Persie. Van Persie. Scores goals. So sing some Haddaway-loving United fans besotted with Red Robin, who despite his age (29) and a dodgy injury record has proved to justify his £24m price tag with 13 league goals. Scoring winners at Liverpool and Manchester City have intensified the adoration while it takes a big personality to subordinate Wayne Rooney's influence to a football team.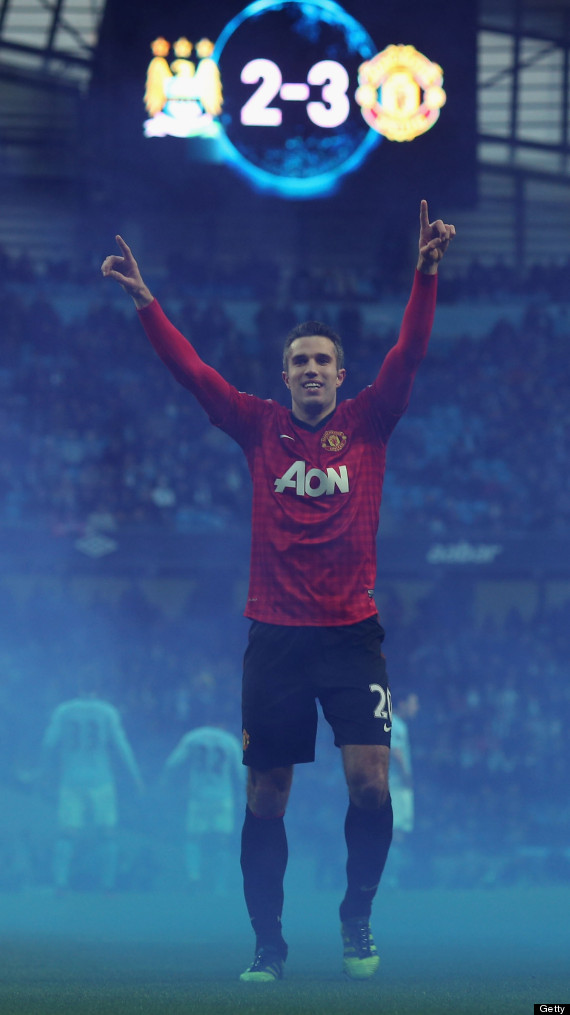 ATTACK: LUIS SUÁREZ (LIVERPOOL)
Loathe him or loathe him (that's not a typo) the Uruguayan is one of the best attackers around and - this is a rarity - one of the finest dribblers in the game. Suárez can leave opponents with twisted organs, let alone blood, and that the 25-year-old is excelling in an average-at-best team illustrates his quality and determination. His erratic finishing has been fine-tuned and the Liverpool forward has resembled the prolific goalscorer who illuminated Ajax.