An Indian woman who was left scarred for life after acid was hurled into her face has won nearly £30,000 (2.5million rupees) on a TV game show.
Sonali Mukherjee answered ten questions correctly on Kaun Banega Crorepati, the Indian version of Who Wants To Be A Millionaire?
Mukherjee will now reportedly spend her winnings on her next round of reconstructive surgeries. The 27-year-old has already endured 22 operations, with her family selling much of their land and belongings to fund the procedures.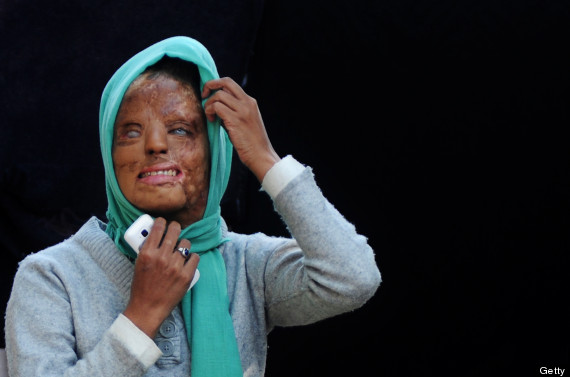 Sonali Mukherjee will spend her winnings on further reconstructive surgery
According to the Telegraph, host and Bollywood legend Amitabh Bachchan praised her as "the epitome of courage" after her appearance earlier this month, on the show which famously featured in the Oscar-winning film Slumdog Millionaire.
Mukherjee told AFP: "If you can stare at a picture of a pretty woman then you can look at my burnt face too.
"It's very easy for victims of acid attacks to swallow poison but I made the choice to stand up and scream and shout against the violence."
Writing for the SCMP in Delhi, Amrit Dhillon, said much of the audience were in tears and gave Mukherjee a standing ovation following her victory.
She now plans to lobby the government for harsher punishments against aggressors, adding: "Only a harsh law will deter men from destroying a woman's life. My attackers were released after serving only three years of the nine-year sentence while my mental agony goes on and on."
SEE ALSO:
In July, Mukherjee appealed to the Indian government for medical support and tougher penalties against the men who disfigured her.
The trio were released on bail after serving three years behind bars. They broke into Mukherjee's home in Delhi nine years ago, after she spurned their sexual advances.
The substance thrown on Mukherjee's face is known as "tezaab" and is usually used to clean rusted tools. Mukherjee's nose, eyelids and ears were melted in the attack, leaving her blind and partially deaf.
In desperation and pain, she told Reuters she needed help from the authorities, or permission to kill herself, as euthanasia is illegal in India.
She said: "For the last nine years, I am suffering ... living without hope, without future. If I don't have justice or my health, my only way out is to die.
"I don't want to live half a life, with half a face."
Wishing you all the very best, Mukherjee.