Lord Rees-Mogg, the former editor of The Times, has died at the age of 84.
As William Rees-Mogg, he was editor from January 1967 to March 1981.
His son, the Conservative MP Jacob Rees-Mogg, told the paper that the peer had only discovered recently that he had inoperable oesophageal cancer.
Lord Rees-Mogg was also a former vice chairman of the BBC and chairman of the Arts Council.
After his tenure as editor, Lord Rees-Mogg was a columnist highly influential in Tory circles, particularly during the Thatcher and Major governments.
He received a life peerage in 1988 and sat as a cross-bencher, although he had twice in the 1950s stood for Parliament as a Conservative.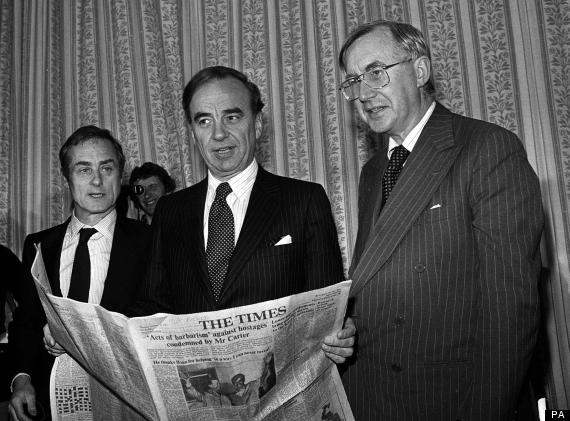 Rees-Mogg (right) was editor of The Times from January 1967 to March 1981
Jacob Rees-Mogg told The Times: "It has been a mercifully short illness. He died very peacefully and a member of his family was with him. He was very prepared for it."
Prime Minister David Cameron paid tribute to Lord Rees-Mogg as a "Fleet Street legend".
"William Rees-Mogg is rightly a Fleet Street legend - editing The Times through a tumultuous period with flair and integrity," he said.
"I always found him full of wisdom and good advice - particularly when I first became Leader of the Opposition.
"My thoughts are with his wife and five children at this sad time."