Chelsea fans serenaded and pleaded with Frank Lampard to stay beyond the end of this season after his match-winning two-goal display at Everton, but one fan's overzealousness resulted in them spelling owner Roman Abramovich's name wrong.
Success has its price and Chelsea's once earthy support has gained numerous glory-hunters and nu-fans since Abramovich arrived in 2003.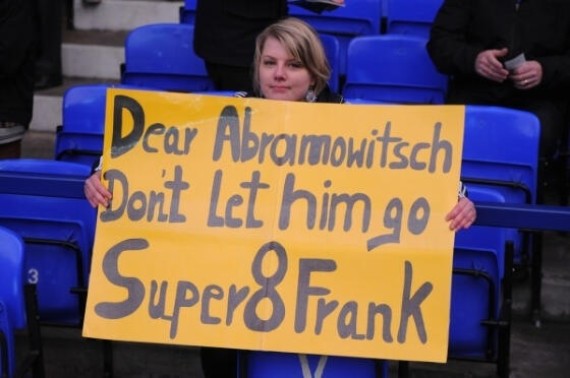 So much is wrong with the above picture, let alone the name 'Abramowitsch'. For one, the placard is very WWE. It should be ringside, not pitchside, but the Premier League has attracted such monstrosities for years now.
And 'Super8Frank'? It's as if that's Lampard's Twitter name, even though he's not on the site. At least the young lady added an apostrophe for 'don't'.