He famously lost his temper during a Panorama investigation into the Church of Scientology, and now reporter John Sweeney has revealed how he attempted to visit the cult's desert lair, which is emblazoned with a message to aliens that can apparently be seen from space.
In an excerpt from his new book Church of Fear, Sweeney tells of his journey into the New Mexican desert to view the group's "space alien cathedral".
Adapted by Ben Jackson exclusively for The Sun, it reads: "We are seeking the space alien cathedral that ex-Scientologists say was built deep underground by the church in the 1980s at a cost of millions of dollars.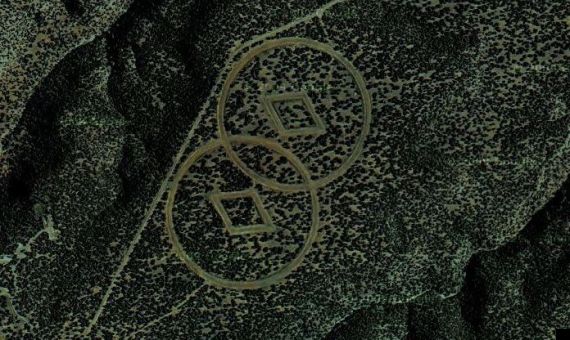 The Trementina Base in New Mexico houses what John Sweeney has described as Scientology's 'alien space cathedral'
"Its vault houses the lectures of church founder L Ron Hubbard on gold discs locked in titanium caskets sealed with argon. The cathedral is H-bomb proof, protected by three 5,000lb stainless steel airlocks.
"Experts say the weird signs on top of the mountain will guide Clears, (high-ranking Scientologists) returning from space to find Mr Hubbard's works after a nuclear Armageddon wipes out humanity."
According to Wikipedia, the base also includes a number of dwellings set in a network of underground tunnels and has its own private, concrete airstrip.
Sweeney's tome, which goes on sale on 7 January 2013 via Silvertail Books, details what he describes as the Church's attempt to "destroy" him and speaks to former Scientologists who tell heart-breaking stories of families torn apart and lives ruined.
The Church, which counts Hollywood actors Tom Cruise and John Travolta among its devotees, has in turn described the author as "psychotic, a bigot, a liar".
Sweeney was filmed in 2007 shouting at Scientology representative Tommy Davis. (Scroll down to watch footage of the exchange). Sweeney was filmed losing his temper during a Panorama programme on Scientology in 2007
Panorama editor Sandy Smith said he was "disappointed" by Sweeney's actions, and Sweeney himself took to the BBC News website to explain himself.
He wrote: "If you are interested in becoming a TV journalist, it is a fine example of how not to do it.
"I look like an exploding tomato and shout like a jet engine and every time I see it, it makes me cringe."
He later told The Guardian his outburst had been "an animal cry of rage" after feeling he'd been a victim of a "psychological attack" by the Scientologists.
Admitting he was left "embarrassed" by the incident, he added: "I wish I hadn't lost it, and for the rest of my life I can never again lose my temper on TV.
"The BBC could have sacked me and that would have been the end of my career on TV."
Meanwhile, the Church of Scientology is set to build a new £6m headquarters in Birmingham.
The group plans to restore a listed mansion in Moseley, according to a video on the Church's website.
No word as to whether they'll be carving alien messages into the roof of the premises.