London used to be heaving with distilleries, but Jamie Baxter has opened the city of London's first one for 200 years.
Here, he tells us why gin is having a revival and how he copes with living in Wales but working in London.
How did you get into the alcohol distilling business?
I had worked mainly in breakfast cereals before moving into alcohol. The company I worked for was bought by a bigger compaby, and while I was there I was approached by William Chase (the founder of Chase Vodka and Gin) to look after the cereals for Tyrrells Crisps in 2006.
Will is fascinated by marketing and branding, and the Tyrrells crisps were going well and he decided he wanted to extend into other products based around the farm.
Cereals worked well as we could grow the grain on the farm, and it would help as you can't grow potatoes in the same field for year after year. So Will took me on to build a muesli factory, but after two months he said to me 'wouldn't you rather be making vodka from potatoes?' so I took a nano-second to think about it, said yes and off we went.
It was all paid for by Tyrrells' crisps – they were making money hand over fist at that point, so Will was able to indulge his flights of fancy. He's a real entrepreneur who was full of ideas and my job was to help him turn some of those into reality.
It was an incredibly fast process, none of us knew anything about distilling, including me. I spent a year learning to distill and designing the distillery, then it took six months to install it, and within a year we'd been named the best vodka in the world, which was just extraordinary.
It originally launched as Tyrrells' vodka, although soon after he sold the control of Tyrrells, so he rebranded it to Chase.
Was moving into alcohol difficult?
In some ways it wasn't even that different – it's just a different way of dealing with starch.
I'd also had some experience in the pub trade – I ran a pub for a bit and discovered it's really hard work. When you sit on the customer side of the bar, it looks really easy and everyone thinks 'I could do that'.
But winning the vodka award in San Francisco was surreal – I got this phone call saying we'd won double gold and best vodka in the world in what is the Oscars of the vodka world and I hadn't even realised we'd entered.
So how did you move from working for Chase to launching your own distillery?
I left Chase in 2010 – it was just time to move on but I really enjoyed the distilling side so I set myself up as a consultant to help people get started in small scale distilling.
It's difficult to get going nowadays, the banks are not willing to lend money; even though this is manufacturing, not the pub industry.
There are a couple of successful ventures where money's been raised through crowd sourcing – it's an interesting idea, and one that I did look at to fund my own distillery.
But you didn't use crowdfunding?
No, after about 18 months I was contacted by Jonathan Clark – I'd been working up an idea to buy a pub and put a distillery in it, and then live above the pub. They're closing left, right and centre so you can pick them up quite cheaply. I've still got my eye on another pub that's just been shut down…
But when Jonathan had the same idea but to have it here in London - which I could never have afforded - I thought that's a great idea. We met in April 2012 and quickly after that decided to get going.
That's a very quick turnaround from saying 'yes, let's go for it' to launching seven months later…
Well, yes it was. It's incredibly tightly regulated too with Customs and Excise requirements and the planning process. Above the bar there's a pavement, a tailors, a restaurant, seven apartments, a launderette all above us, so putting a working distillery underneath all of that was challenging. It is safe – the room in which the still sits is bombproof – but there were concerns from the local residents at first.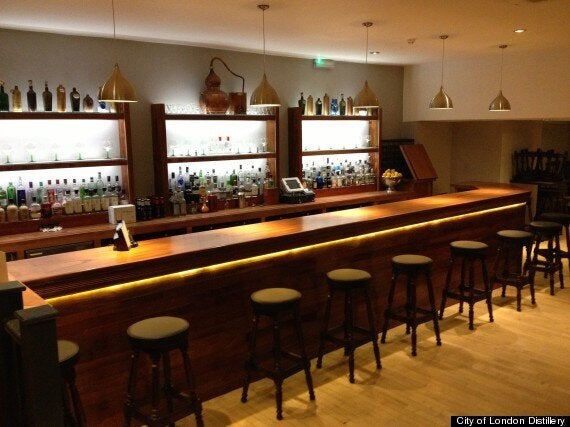 The new bar, built by Jamie and Jonathan
The council wanted us here, they're looking for businesses which will provide places for residents and tourists to go and spend money at the weekend, so we tick that box. The planning probably took six months in all, subject to some terms and conditions which are all sorted now.
What Jonathan and I did during that time was to completely gut the place. Every floor board you see and the bar was all built by us. The location used to be a comedy club and we needed to move the bar to allow us to put the still in place, so rather than throw a lot of money and workmen at it we decided to spend the time needed for us to do it.
We had a carpenter to help us for six weeks with the fiddly bits, but otherwise it was all Jonathan and me. We've not exactly saved money, but there was no point bringing others in to do the work while we knew we were going to be hanging around for six months. The good thing is we now know everything about this building, like where all the pipes go, which will be useful.
What problems and hurdles did you face in building your own distillery and having a bar attached?
To be perfectly honest, it's gone pretty much as expected. The main difficulties have been between Jonathan and I on how much space the bar gets – I naturally want more room for the distillery and he wants more for the bar. About two thirds of the floor space is taken up by the bar now.
Business-wise it of course makes sense to be able to fit more people in the bar – but I want to future-proof us and that means making sure we've got room for another couple of stills.
There's not a lot of staff needed to run a distillery – it's all done by hand but even so once it's running you just need to pop in every 10 minutes or so to make sure it's okay. A batch of gin will take four to five hours and you'll get 180-200 bottles out of that. As soon as it's made, it's ready to go into the bottle.
That's why a lot of whisky distillers also end up making vodka and gin – they finish making the product and by then it's got to age for 10 years, so they make gin and vodka to keep the money rolling in in the meantime.
We've brought a couple of London bar consultants in who will run the bar for us, which means we can concentrate on getting the distillery up and running.
What are your hopes and dreams for the distilling side?
It's a pretty small dream but initially we just want to see as much of our own gin behind the bar as possible. We'd like to get visitors coming to see how it's made and then get them to sample it in the bar.
We've got an off-license as well so we can sell bottles to punters who've had one too many as they leave (laughs) and we can also make up bespoke batches as corporate presents.
You could have a team-building day where you make your batch and we'll then send them across when they're ready. There's a lot of interest in that.
We'll have to look at selling it elsewhere too; we'll focus on the locality – there's enough independent bars and clubs which we think we could get into. A lot of the pub chains allow some of their managers to have a bit of lee way too. Most premium spirits are sold within the M25 and we're in the middle of that. Export hasn't even crossed our mind yet, but never say never.
You're quite unusual in the entrepreneurs I speak to because you've had partners all the way through
Well, with Chase, Will was the entrepreneur, and Will took me on. I was going to do my distillery in a cheaper way on a smaller scale on my own, but that would only have worked with the right property, so I couldn't just dash out and do it. So when Jonathan came up I thought it was great, I'd liked to have done something in London but never thought I could afford it – I'm from north Wales and the prices are very different there!
Have you moved to London now then?
No, I go back home at weekends – my wife is on her own at home at the moment as our daughter's about to head off to university so it's not terribly pleasant for her at the moment.
What advice would you give to anyone considering doing what you've done?
You've got to have the courage of your convictions. There's never a right and wrong answer, you've just got to go with your gut feeling. Sometimes that'll be the wrong decision, but at least you've made it and then you've got to not be afraid to change what you're doing.
There's always a load of people who have great ideas which they don't follow through – they always have an excuse; I haven't got the money or the time – that's not an excuse, you can find it if you want to.
You also have to understand the product and the market you're going into. It's very difficult to start that unless you've got a lot of money behind you otherwise – but you also need to be a jack of all trades and be prepared to have a go at everything, from accounts to HR to sales and promotion – and you need to be able to recognise which bits are core to your business and which bits you can have people muddle in with you on.