David Cameron has told young entrepreneurs he wants to encourage new businesses in the hope Britain can create the next Amazon or Google.
The Prime Minister met young people involved in starting their own firms on a visit to the University of Central Lancashire in Preston.
The event came as it was announced funding for the government's Start-Up Loans scheme was being boosted by £30m to £110m over three years.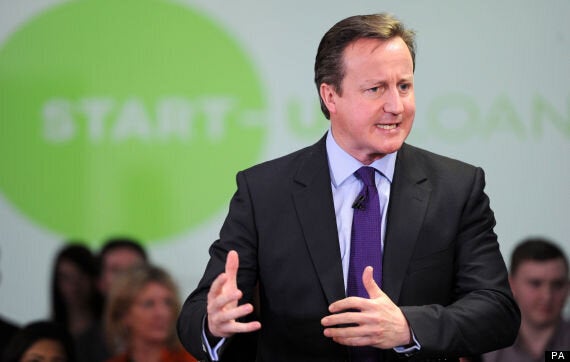 David Cameron spoke to entrepreneurs at the launch of the Start-Up scheme on Thursday
It means thousands more young people could get Dragons' Den-style government-backed loans to help them turn business ideas into reality.
Cameron was accompanied on his visit by James Caan, one of the Dragons in the BBC show and chairman of the scheme.
During a question and answer session, the Prime Minister said some of the world's biggest brands did not even exist just a decade ago.
But Britain's strength in having English as the international business language, and its IT sector and universities, allied to encouraging entrepreneurs meant it had the ingredients for success.
"There's absolutely no reason why Britain can't create the next Google, the next Amazon, the next Facebook," he said.
"These are tough times I know, but we have to do everything we can to encourage that private sector growth, that small business growth."
The government says it is on target to issue more than 2,500 loans by March - despite criticism that only a few hundred worth £1.5m have been finalised since the scheme was formally launched last autumn.
Some 3,000 people are said to have registered an interest in the money and mentoring packages, which are only available in England and are being delivered through charities such as the Prince's Trust.
Those whose business plans are deemed "robust" typically receive £2,500, which can be repaid over five years at a relatively low rate of interest.
Caan said: "There has been a major shift in the way business is viewed by the public, and entrepreneurs are now seen as creative and exciting role models.
"I am delighted to see that more and more young people are now looking to set up their own business.
"It is only with this renewed focus on youth entrepreneurship that we will create more jobs and wealth and see the economy flourish once again."
But Labour said the scheme was not doing enough.
Shadow business secretary Chuka Umunna said: "With our economy flat-lining, it's essential that initiatives like the Start-Up Loans scheme are delivered effectively if they are to provide real opportunities for our young entrepreneurs.
"That's why it was disappointing that figures released at the end of last year suggested delivery of this scheme, like so many others from this government, was not living up to David Cameron's rhetoric."
John Walker, national chairman of the Federation of Small Businesses, said: "Finance continues to be hard to get for people that want to set up a business, so it is good news that more funding is now available to more people.
"However, in some cases £2,500 may not get a business very far so we would call for a more flexible approach where a start-up could apply for more if needed."