Shotgun-themed weddings continue to boom in the US – despite the tragic shooting at Sandy Hook elementary school that saw a gunman pick off 26 people.
The Las Vegas ceremonies are still a hit and organisers The Gun Store insist no weddings have been cancelled in the wake of the incident and bookings are still flooding in.
Couples travel from all over the world, including the UK, to tie the knot at the Gun Store in full bridal wear before firing semi-automatics as well as pistols, UZIs and AK47s.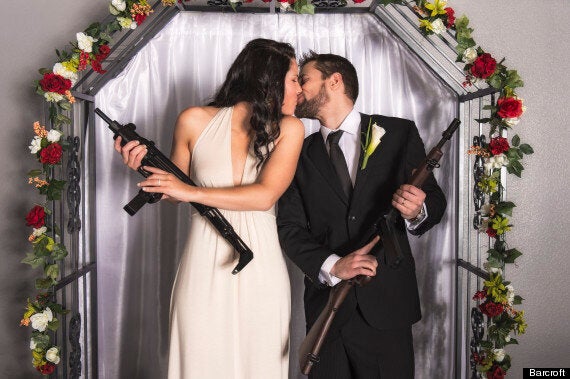 Say it with firearms: A happy couple pose proudly with their guns
The £300 package includes an ordained minister, access to a private VIP shooting range and five shots on a shotgun for the bride and groom.
Another deal, called the Mr & Mrs Smith & Wesson, offers even more guns, ammunition and targets.
Emily Miller, an ordained minister at the Gun Store, said: "We're here because people love each other and guns.
"Guns don't have to be about anger and hate. This is a fun and energetic way to get out their aggressions and emotions."
Since February last year, ten Shotgun Weddings have been conducted each month.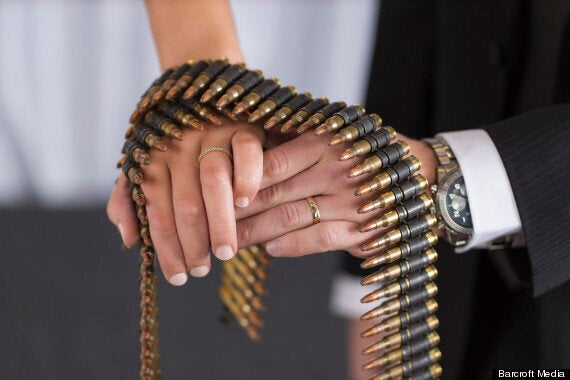 Bullet belts to seal our love: Ten shotgun have been conducted each month for the last year
One couple travelled from their home in Ottawa, Canada, where gun laws are much stricter than Nevada.
The chapel room, normally used for cleaning guns, had been scattered with red rose petals.
And an UZI and Tommy gun had been mounted on a flowered trellis on the stage.
As the couple said their vows, the loud sound of an assault weapon being fired could be heard from the nearby shooting range.
They later moved to the special marble-floored VIP shooting range to seal their vows by blowing away their Nazi zombie targets.
Aaron Dickson, also an ordained minister at the Gun Store, said: "One thing I like to do is to have you guys share a lane together so you can enjoy watching each other shoot.
"To start off the marriage appropriately you guys get to start sharing right away - that's the whole idea."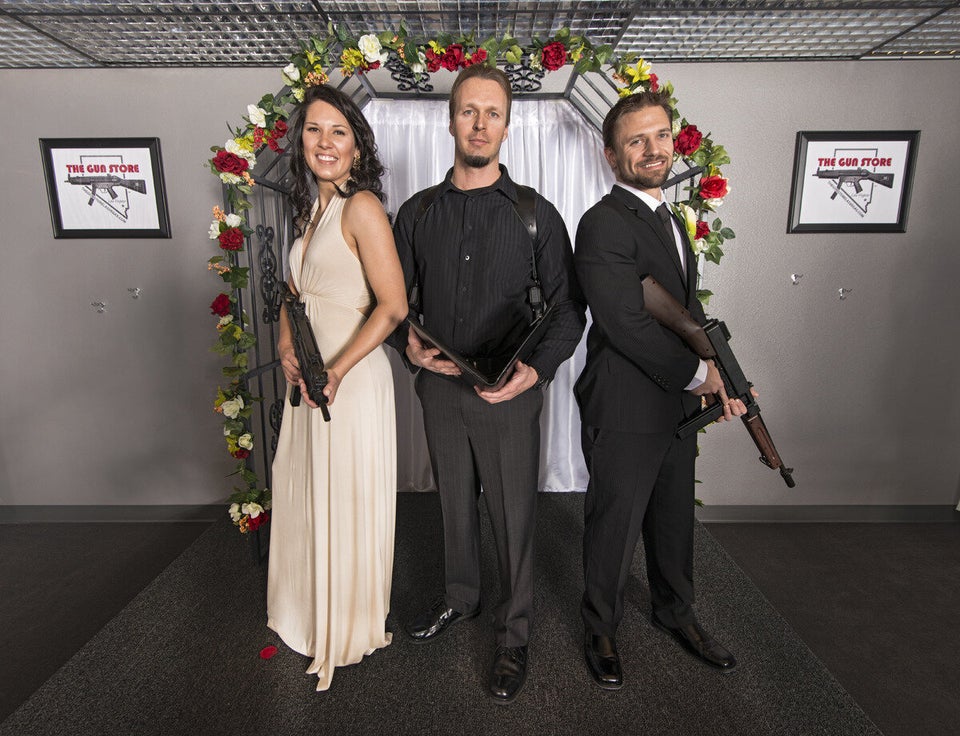 Shotgun wedding
Popular in the Community