It may have been the biggest song of 2012, but even Psy is getting tired of Gangnam Style.
The South Korean pop star's hit spawned a thousand parodies and became the first video to hit one billion views on YouTube.
And while Psy rang in the new year doing the giddy-up in New York's Times Square, he's hanging up the hit and concentrating on his next move.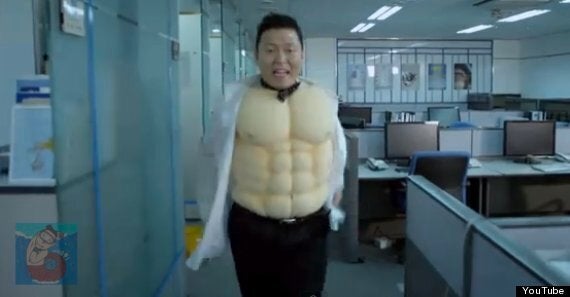 Clip-on six pack. There's the Psy we know and love!
He told Rolling Stone: "The song became too popular, and so you start to have some concern about its life period. I'm working really hard on a new single right now."
So, while we cool our heels and wait for his next offering, let us refer you to Psy's earlier hit Right Now - which happens to currently be the third most-viewed video on Psy's official YouTube channel (not counting a handful of other Gangnam-related clips.)
The video sees a bespectacled Psy leaping out of his car and dancing on the bonnet during an arduous-looking traffic jam. He also performs a variety of moves whilst wearing a clip-on six pack.
As Buzzfeed points out, the mostly-positive feedback below the song offers evidence Psy's fans are sure he's no one trick pony and are touting it as his next big success.