A Cameroon court of appeal has overturned the conviction of two men jailed for "looking gay", declaring them "innocent" of homosexuality.
Jonas Kimie and Franky Ndome were wearing women's clothes and had been seen drinking Bailey's Irish Cream when they were arrested outside a nightclub in the capital Yaounde in July 2011.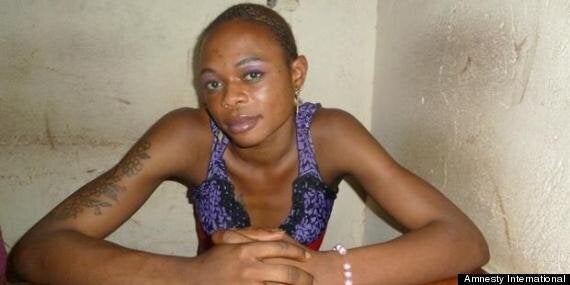 Jonas Kimie told Amnesty International he feels more comfortable wearing women's clothes
He had stated "the way the men dressed...spoke and the fact that they drank Bailey's Irish Cream proved they were gay", Ms Nkom said.
Last month, Ndome and Kimie told Amnesty International they had been subjected to violence and prejudice from prison authorities and other inmates while in jail.
Ndome claims he was beaten by guards in June 2012 for refusing to plait a female guard's hair.
On December 17, a Cameroonian court upheld the five-year-sentence of another man, Roger Jean-Claude Mbede, who was convicted of sending a text message that said "I love you" to another man.
Amnesty International's upcoming report on human rights concerns in Cameroon, due to be published later this month, documents cases of harassment of perceived Lesbian, Gay, Bisexual, Transgender and Intersexual (LGBTI) people in the country.
Homosexuality is illegal in Cameroon and sentences for homosexual acts vary between six months to five years.