A fragment of the only hand-written poem by John Keats known to remain in private hands is going under the hammer.
Inspired by a walk on London's Hampstead Heath, Keats began writing the work, I Stood Tiptoe Upon A Little Hill, in Margate in July 1816 and completed it in November that year.
The piece features 33 scribbled lines, showing how the Romantic poet revised his thoughts as he wrote.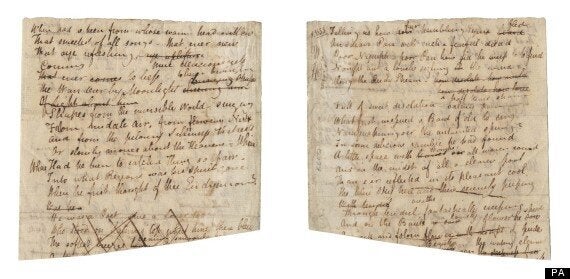 The extract from I Stood Tiptoe Upon A Little Hill, thought to be worth £45,000
The draft, estimated to fetch £45,000, is a fragment of a manuscript which belonged to Charles Cowden Clarke, a close friend of the English poet.
After the Ode To A Nightingale poet's death at the age of 25 in 1821, Clarke cut the manuscript into 13 pieces and gave them to Keats's friends and admirers as mementoes.
The fragment of the poem is one of the pieces. Four of the 13 have never been discovered.
Six are in institutions such as the British Library, Harvard and the Scottish National Portrait Gallery, and the locations of the other two have not been known since 1929.
The draft goes on sale on 8 May at Bonhams in London as part of the Roy Davids Collection III: Poetry: Poetical Manuscripts and Portraits of Poets auction.
Other items in the sale, which also features hand-written poems by a young Charlotte Bronte, John Betjeman, WH Auden, and the complete working paper for Sylvia Plath's Sheep In Fog with a commentary by Ted Hughes, go under the hammer on 10 April.