Sir Alex Ferguson has hailed Cristiano Ronaldo as "the complete player" since he left Manchester United in 2009.
Ronaldo joined Real Madrid for a world record £80million three-and-a-half-years ago and the Red Devils have found it impossible to measure up to the standards set when the Portuguese was at the club.
United reached two successive Champions League finals and won three consecutive Premier League titles with Ronaldo top scoring in every season, hitting 42 in the 2007-08 Premier League and European Cup triumph.
He will be an opponent at Old Trafford next month when Real Madrid visit for the second leg of the teams' round-of-16 Champions League tie, but Ferguson was typically effusive when asked about his protégé's progress away from United.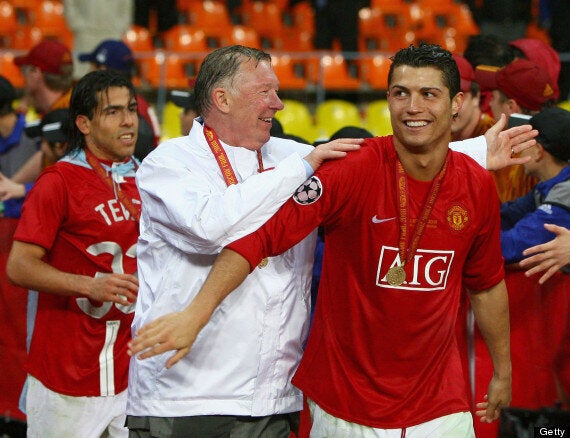 Ferguson congratulates Ronaldo after United's 2008 Champions League win
"Maturity brings many things," Ferguson told Inside United.
"When I went to see them play against City, some of his decision-making in terms of passing was brilliant. One-touch passing, good crosses.
"In the six years we had him, you just saw his game grow all the time, and he was a fantastic player.
"Now you see the complete player. His decision-making, his maturity, his experience, plus all the great skills he has got, they all make him the complete player."
Ferguson signed Ronaldo for £12.24m from Sporting Lisbon in 2003 when the Portugal captain was 18 and oversaw his emergence into one of the best players in the world.
Ronaldo was runner-up in the 2007 Ballon d'Or but won the accolade in 2008.
The United manager spoke to the 27-year-old in Manchester ahead of City's encounter with Real in November, and then watched the forward run City ragged in the opening half at the Etihad Stadium as the visitors dominated their penultimate group game.
Ferguson hailed the clash with Madrid as a tie between "the two most high-profile clubs in the world", but before that United have five Premier League fixtures to play, beginning with Liverpool on Sunday. Evra confronts Suárez last year
Undoubtedly English football's greatest and most enduring rivalry, the corresponding fixture last term was marred by Luis Suárez refusing to shake Patrice Evra's hand less than two months after he was suspended for racially abusing the United left-back.
Liverpool manager Kenny Dalglish's furious post-match reaction, in which he acted as an apologist for the Uruguyan's conduct, prompted both him and Suárez to apologise for their conduct the following day, albeit not to Evra.
Evra then shook hands with Suárez at Anfield this season, and Ferguson is optimistic the intensity which fuelled last year's match in M16 will have subsided come Sunday. Evra and Suárez shook hands at Anfield in September last year
"There will always be a certain build-up to a Manchester United-Liverpool game, simply because of the history between the two clubs, the two most successful in the country," he explained.
"It brings its own agenda in terms of profile and pre-match discussion.
"Last year it was unfortunate with the Suarez behaviour. I think hopefully it is behind both clubs now and we can just look forward to the game."