The fate of a schoolgirl who disappeared more than 50 years ago remains a mystery after a grave search found no evidence of her remains.
Moira Anderson was 11 when she failed to return home from running an errand in Coatbridge, North Lanarkshire, in February 1957.
Convicted paedophile Alexander Gartshore, a Coatbridge bus driver who died in 2006, has been connected with the schoolgirl's disappearance.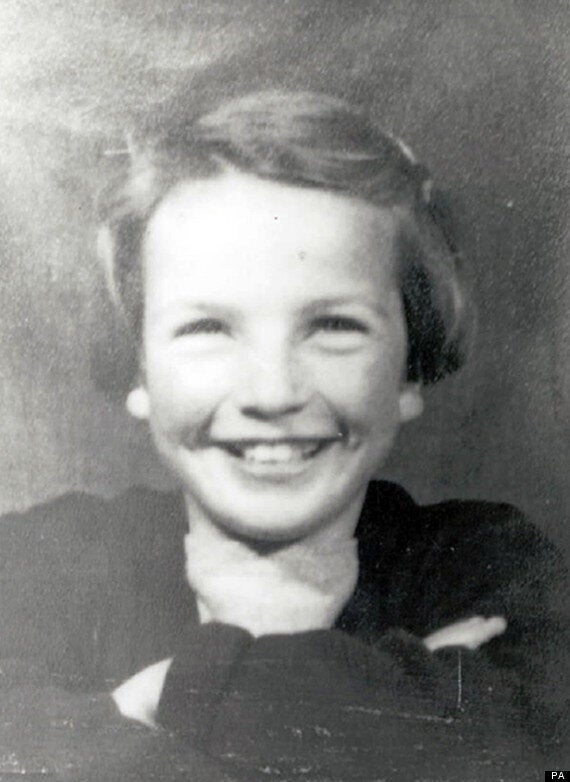 Moira Anderson was 11 when she failed to return home from running an errand in Coatbridge
Gartshore's own daughter, Sandra Brown, blames her father for the murder in a book she published, Where There Is Evil.
She believes her father was a paedophile who operated as part of a ring in central Scotland over a number of decades.
Ms Brown told BBC Radio Scotland earlier on Thursday: "My dad was definitely a paedophile - and we're talking about the kind in the same mould as Jimmy Savile."
"Despite today's outcome, the case will remain open."
It is widely believed that Moira was abducted and murdered, but her body has never been found.
Detectives recently reopened the case, focusing on a family grave plot where they believed it was possible that her body may have been dumped.
On Tuesday investigators began excavating the plot of Sinclair Upton, said to have been an acquaintance of Gartshore, to see if the youngster's remains were put there.
The operation was led by Professor Sue Black and a team from the forensic anthropology department at Dundee University.
Mr McLeod said Moira's family has been made aware that searchers had turned up a blank.
The officer stressed that it did not mean the search for the missing girl was over.
"Any further lines of inquiry will be fully investigated," he added.
Brown has said her father told her that Moira got on his bus during a blizzard and he was the last person to see her, previously saying "it was really a chilling conversation I had with him and it brought up a lot of echoes and worries for me and eventually it led to me going to the police."
Speaking at the cemetery on Thursday, she said: "I'd like to thank the inspector and while I'm very sad about the result of the operation, I'm absolutely satisfied that the police view that it's not a crime scene is correct.
"Moira's two sisters now know but I've explained that although the grave is closed, it's not the end of the story and we strongly believe that Moira still wants to be found.
"We've had experts here working with the police with the highest integrity but the people who did this crime were devious in the extreme and their wickedness knows no bounds.
"My belief is that Moira is not far from us but she remains concealed by extremely wicked people.
"It's a difficult day but my thoughts are with the Upton family, who can now hopefully have their family members put to rest."
Scotland's Lord Advocate Frank Mulholland ordered cold case detectives to reopen the case as a murder last year.
Moira's sister Janet Hart, who lives in Australia, launched a petition to get the grave exhumed, believing Gartshore might have dumped her body there in the days before Mr Upton was buried.
An Airdrie sheriff granted the request in December and the Crown Office gave police the green light to begin drawing up an expert team trained in the techniques required for the delicate search.
A large section of the cemetery was cordoned off with police tape on Tuesday and tents were erected around the excavation site as specialists in overalls carried out the work.
A radar search of the plot several years ago found an "anomaly" which suggested an extra set of remains in the grave where it is believed eight people are buried.
Ms Brown said this turned out to be broken stone.
She said: "The anomaly was there, it was tied to the huge headstone at the grave.
"About seven feet down there were a lot of bricks and slabs, and they showed up on the radar."
She said: "Both of Moira's sisters are hugely disappointed. It's been a long time and it's a shame that their hopes are dashed.
"This story has more twists and turns than anything Edgar Allan Poe could have come up with. It's not what I would have liked to have happened today but it's certainly not the end of the story.
"Some people might think we've hit a brick wall here but I think we've actually punched through a brick wall.
"Over the last few months Moira's case has been upgraded from a missing person to a murder inquiry. It's become a cold case review and in the future there could be further developments."
In 2000 Ms Brown established the Moira Anderson Foundation as a legacy to the schoolgirl and her family.
She said Moira had "really a remarkable legacy" because the charity in Airdrie had helped thousands of people.