Listen up ladies, a survey has discovered what many of us already know first hand: wearing hotpants, miniskirts, see-through blouses and low-cut tops is somewhat distracting for the office-dwelling male.
Nor are you likely to be surprised by the news such attire is actively putting menfolk off their work (yes, we should absolutely be able to wear what we like without sending "them" into a tongue-lolling stupor, but there you have it).
However, you may raise an eyebrow to learn that among the other most distracting items of clothing females wear in the office are Ugg boots, slogan T-shirts and... CROCS. Yes, those plastic monstrosities may well be offensive, to well anyone with eyes, but seriously, they stop people from working? In the same way hotpants do? (What if Kylie turned up in hotpants and Crocs? The universe would most likely implode. And also, who the hell wears Crocs to work anyway?)
The findings come courtesy of a survey by the British Heart Foundation, which set out to learn more about British attitudes to clothing in the workplace..
So, in reverse order, here is a selection of following clothing men want banned for being too distracting or simply unprofessional: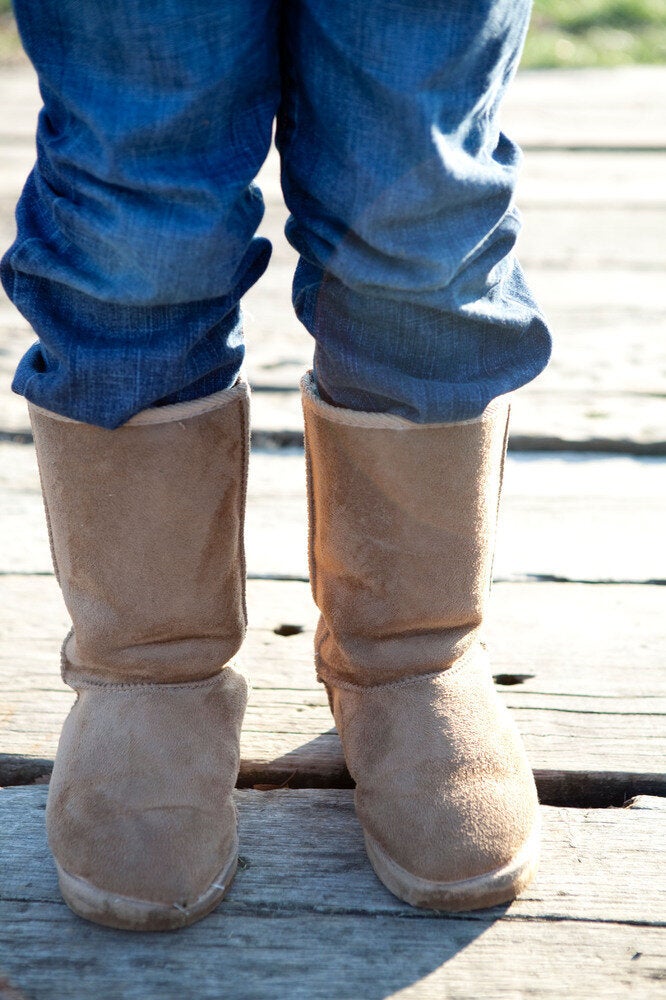 Distracting/Unprofessional Office Clothing
Meanwhile, 67 per cent of women say colleagues should be stopped from wearing tiny shorts and 52 per cent believe miniskirts are unprofessional.
The survey was carried out in preparation of the heart charity's upcoming Rock Up In Red event on February 1, which encourages women to wear red in the office.
Over a third of women polled (37%) claimed the colour made them feel at their most confident, with one in ten saying they would reach for red in an attempt to "impress" in the office. (Just not red Uggs or Crocs, right?)
Fronted by The Saturdays' Mollie King, the campaign hopes to rouse up support National Heart Month and for the fight against heart disease - the UK's single biggest killer.
Dr. Gayle Brewer, Senior Lecturer at the UCLan School of Psychology, said: "The clothes and colours we wear have a real impact on the way we feel and the image we project. The colour red is associated with confidence and power.
"It appears women are donning their best red dresses and suits in order to make their mark at work."
So, the message seems to be: tone down the hotpants, sheer blouses and miniskirts (unless you work in an 'exotic dancing' establishment where such things are de rigueur), wear red, and steer clear of Crocs and Uggs.