Much of England woke up to snow on Monday morning with up to 10cm falling in some areas prompting fears of travel chaos.
The first wave of snow hit most of the country and some eastern parts of Wales but a second heavier band will fall over central and eastern England later in the day.
The Met Office has upgraded its "cold weather action" warning to level three - one underneath a national emergency - for all of England, urging social and healthcare services to target specific actions at high-risk groups.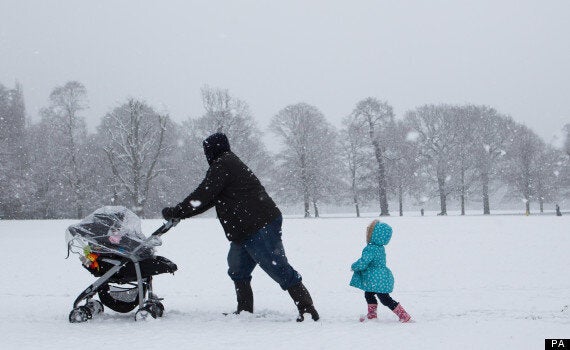 A man pushes a pushchair through the snow in Wollaton Park, Nottingham
It said: "This weather could increase the health risks to vulnerable patients and disrupt the delivery of services."
A number of yellow and amber warnings are also in place across the country to highlight the hazardous conditions and likelihood of disruption to travel services caused by the ice, snow and freezing temperatures.
The heaviest snow of up to 10cms will fall in Lincolnshire and north-east England, while central and east England will widely see up to 5cms with temperatures hovering around one degree. A woman walks past a selection of sledges out side the Sledgehut shop in Bingham
Nick Prebble, a forecaster for MeteoGroup, the weather division of the Press Association, said: "Most places in England will see a good dusting of snow this morning, but a heavier fall will come later in the day for central and eastern England.
"There will widely be between 2cms and 5cms but up to 10cms in north-eastern England and Lincolnshire.
"Temperatures will be up to eight degrees in the west of England and Wales but hover around freezing point in the rest of the country.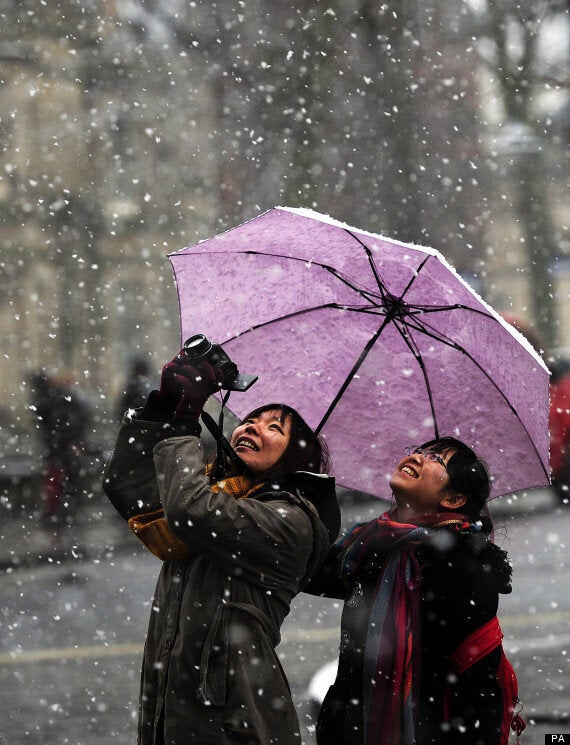 Heavy snowfalls sweep across York today as visitors to the City photograph the winter weather
"Any amount of snow which falls in this country causes disruption, and there could be some large amounts in local areas so it will undoubtedly cause some travel issues."
He added that light rain fall and freezing temperatures in some areas of England will bring a danger of ice.
Snow which fell over the weekend in Scotland is expected to linger, with the possibility of a light fresh dusting on Monday.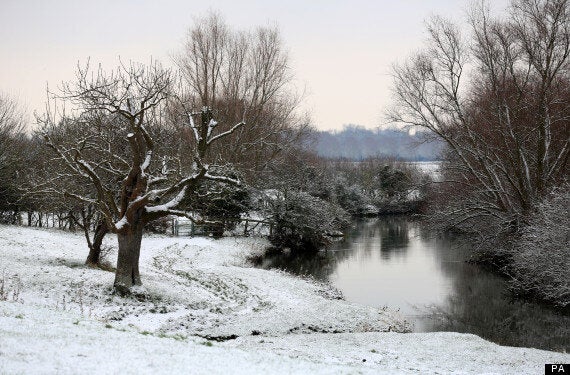 The view along the River Cam at Grantchester Meadows in Cambridgeshire
Temperatures are expected to drop further to around minus eight degrees on Wednesday night with the possibility of more light snow flurries.
The AA has warned that 75% of drivers are not prepared for conditions on the roads, and urged drivers to carry an essential winter kit and check their cars before getting behind the wheel.
The RAC is expecting up to 56,000 breakdowns and widespread disruption. It has placed extra patrols on stand-by to help stranded motorists and said call-outs are expected to rise by 20% or more. Highways Agency Maintenance operative Gary Cantellow loads gritting salt onto one of their machines
The Highways Agency has said it is "well prepared" for winter conditions.
A spokeswoman said: "We have a fleet of 500 state-of-the-art winter vehicles on standby, supported by tried-and-tested winter resilience plans.
"We have reviewed salt stock levels and taken action where needed to enhance our resilience and we have again established a reserve salt stock to help ensure that there is enough salt to deal with severe winter.
"Our roads will be treated whenever there is a risk of ice or snow.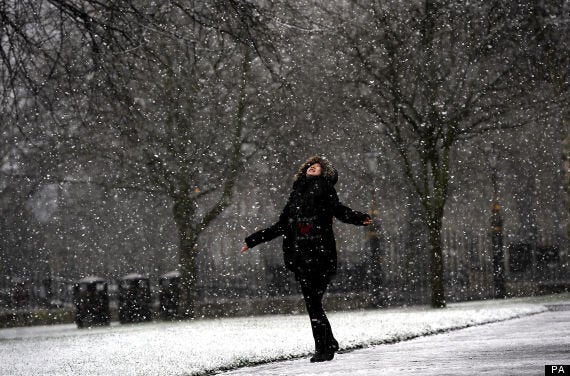 A Chinese student at York University looks at the snow coming down in Deans Park in York
"However, even when roads have been treated, drivers should still take care, especially on stretches where the local road layout or landscape means there could be a greater risk of ice forming."
Save the Children's head of UK policy, Chris Wellings, said: "The poorest families will struggle to cope with this cold snap. Parents on low incomes are already struggling to afford even basic essentials such as warm winter clothing and a hot meal every day for their children as living costs continue to rise.
"As temperatures plummet many simply don't have the money to heat their homes. The Government must ensure that the poorest families can afford to keep warm." Snow on the high ground of the Yorkshire Wolds at Millington Pastures, near Pocklington
Leeds Bradford Airport has reported that the severe weather caused disruption to its flight schedule Monday morning.
A spokesman said no flights have been affected by the severe weather and the airport continues to monitor the situation.
It added that passengers should allow additional time to travel to the airport.
A spokesman for Manchester Airport said flights are running as normal but that passengers are urged to monitor its website for updates.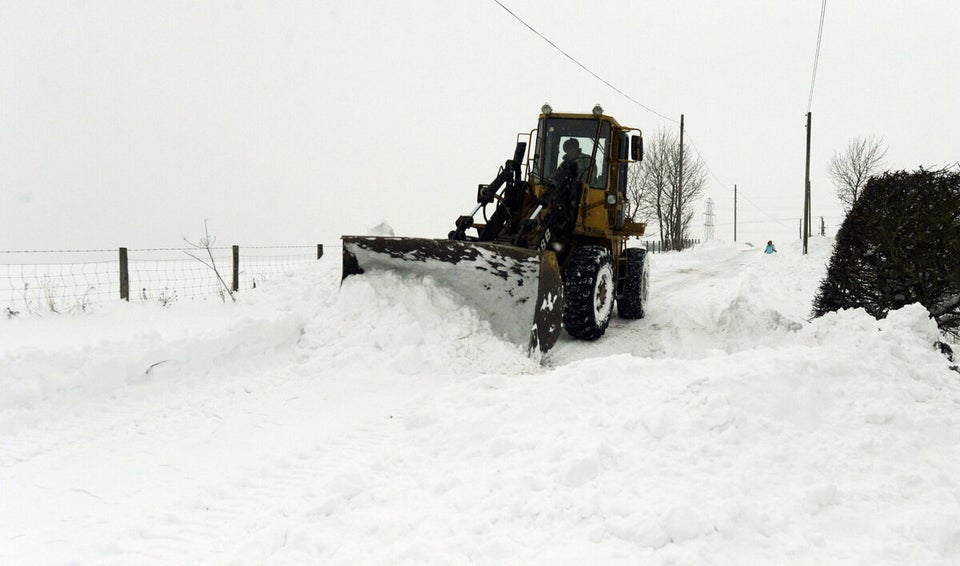 Snow Covers UK