Large swathes of the UK were struck by heavy snowfall on Monday, causing travel problems for motorists and rail users with forecasters warning the worst is yet to come.
Six inches of snow (15cm) could fall on high ground, according to MeteoGroup, the weather division of the Press Association.
The weather has already led to more than 20 motorists needing to be rescued by the AA from cars that had become stuck and led one rail operator to introduce a speed restriction and cancel services. Motorist drive through snow showers on the A14 at Bar Hill in Cambridgeshire
John Lee, forecaster for MeteoGroup, said: "Over the next 12 hours there is the chance of 5-10cm (2-4in) quite widely in the North East, East Midlands and East Anglia.
"Some of the hills in the North York Moors and the Lincolnshire Wolds could see 10-15cm (4-6ins)."
After large parts of England were hit by snow this morning a second heavier band is moving south and east.
The Met Office issued an amber weather warning for snow focused on the East Midlands, eastern England, the North East and Yorkshire, warning the public to be prepared for the risk of disruption.
The AA said it had attended around 9,000 breakdowns so far - including 23 cars stuck in snow, mainly in the Grampians in Scotland, Oxfordshire and the East Midlands.
A spokesman said breakdowns are currently coming in at more than 1,100 every hour peaking earlier at around 1,750 and the AA expects to attend more than 16,000 for the day, compared to around 10,500 on an average Monday. Fishing boats take shelter from the heavy snow in Scarborough harbour
Rail operator Greater Anglia said routes between London Liverpool Street and Cambridge, Colchester, Ipswich and Norwich would be subject to a 60mph speed limit because of the snow.
Some parts of Norfolk and Lincolnshire could get a second snowfall as the weather system spins out over the North Sea overnight and back towards land again, Mr Lee added.
The rest of the country should have a dry but chilly day on Tuesday. Temperatures in Scotland, the North East and eastern England will struggle to rise above zero, while London will get to around 3C (37F). The warmest place in the country will be Cornwall, which will get to around 8C (46F)
Temperatures are expected to drop further to around minus 8C (17.6F) on Wednesday night with the possibility of more light snow flurries.
Motorists were warned by the Highways Agency to take extra care on Monday evening and into the early hours on roads made slippery by snow and sleet in freezing temperatures.
The Highways Agency said its Met Office forecasters had also warned 15cm could fall on high ground. Cars make their way along snow covered roads near Scunthorpe
It said a band of rain, sleet and snow was affecting western parts of the country on higher routes, but snow is likely at lower levels as this moves east.
Steve Crosthwaite, head of the National Traffic Operations Centre, said: "We are using salt to treat the road network and have ploughs and snow blowers on standby if necessary. Our traffic officers are working around the clock to monitor our road network, deal with any incidents and keep traffic moving.
"During severe winter weather we ask drivers to check road conditions and the weather forecast before setting out. If conditions are poor, and journeys are not essential, we advise drivers to think about delaying until conditions improve and allowing our winter fleet the chance to treat the roads."
The weather did not slow some drivers. Kent Police said its traffic units stopped a driver who had been doing 110mph on the M2 in the snow. Snow on the high ground of the Yorkshire Wolds at Millington Pastures, near Pocklington
Leicestershire Police took to Twitter to issue a stern warning about snowballing.
"Sledging, snowmen and snowballing? It is only fun for those who want to take part," it wrote.
"Please don't throw snowballs at vehicles on the roads, distracting drivers can cause accidents."
The AA warned drivers to be prepared and carry winter kit in their cars while the RAC said it had extra patrols on the road as it expected up to 56,000 breakdowns and widespread disruption.
Public-spirited postmen and milkmen were asked today to help keep an eye on the elderly and vulnerable during the cold snap.
The Local Government Association said "all community-spirited residents" were being urged to help support council workers and spot if people are in danger.
Sub-zero temperatures expected over the next week and increased heating bills mean there are concerns that the number of deaths this winter could top the 24,000 in the relatively mild 2011-2012 winter, it said.
While plans are in place to deal with extreme weather, the LGA urged people to look out for their neighbours.
Councillor David Rogers, chairman of the LGA's community wellbeing board, said: "As well as gritting our roads and clearing snow, council teams are ready to be drafted in to provide a variety of services to help the vulnerable deal with the severe winter weather, from carrying out emergency household repairs to delivering hot meals and portable heaters.
"But council staff can't be everywhere. They rely on community-spirited residents to look out for each other.
"We are calling on neighbours, postmen, milkmen and paperboys to step up and help save lives by knocking on doors and reporting anything out of the ordinary.
"Just a call on an elderly neighbour who's perhaps unable to ask for help can make all the difference.
" They may just need an extra blanket getting down from the loft or perhaps they didn't get out to collect their medicine this week. It takes no time to check in but could potentially save lives."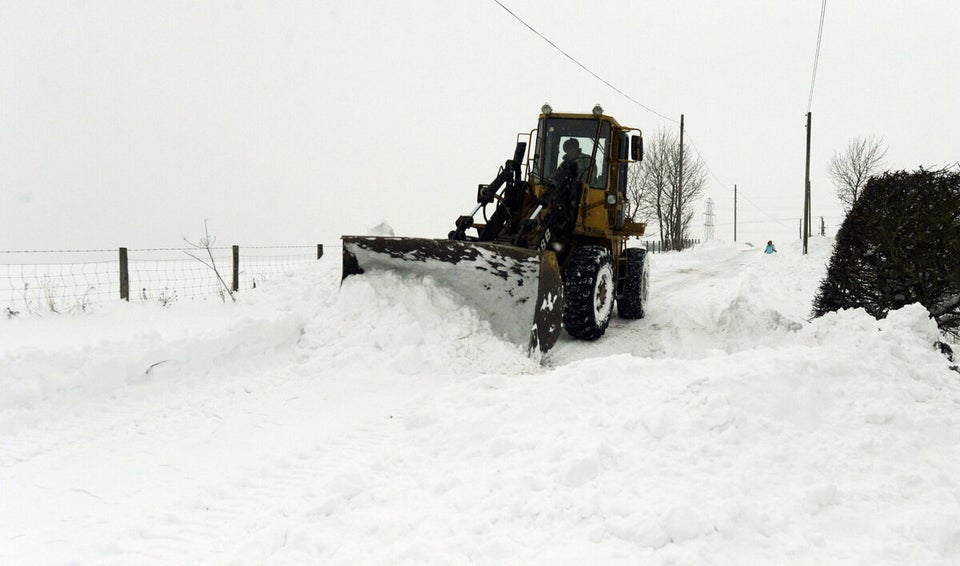 Snow Covers UK