Video game publisher Deep Silver has apologised after it announced the special edition of Dead Island: Riptide would come with a headless, limbless female torso in a Union Flag bikini.
The 'Zombie Bait' edition was to come with the 'hand painted' figure, which was pictured splattered with blood and gore.
Now Deep Silver has issued an apology, even as some claim it was never intended to be sold anyway.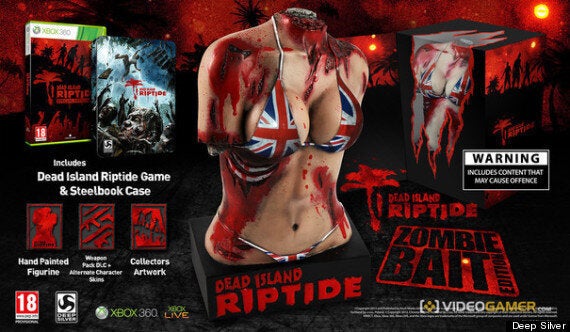 Originally the statue was described as "Dead Island's grotesque take on an iconic Roman marble torso sculpture".
"Dead Island Riptide is one of the most anticipated releases of the year and is set to build on the original's reputation for OTT action, dark humour and brutal zombie bashing," said Paul Nicholls, Sales & Marketing Director at Deep Silver, in the original release.
"We wanted to provide a unique collector's edition that was utterly 'Dead Island' and would make a striking conversation piece on any discerning zombie gamer's mantel."
But the reaction from gamers was almost universally negative. John Walker at Rock Paper Shotgun said the statue was: "beyond disgusting. It's as if someone were attempting to demonstrate the most misogynist idea that could possibly be conceived, in an attempt to satirise the ghastly trend".
Now Deep Silver has apologised, and said it is reviewing the decision to sell the statue.
"We deeply apologize for any offense caused by the Dead Island Riptide "Zombie Bait Edition", the collector's edition announced for Europe and Australia," it said.

"We sincerely regret this choice. We are collecting feedback continuously from the Dead Island community, as well as the international gaming community at large, for ongoing internal meetings with Deep Silver's entire international team today.

"For now, we want to reiterate to the community, fans and industry how deeply sorry we are, and that we are committed to making sure this will never happen again."
But some fans and games writers said they were not convinced Deep Silver ever intended to sell the statue.
Others simply wondered if the statue would still be sold or not, since that was not directly addressed in the swiftly issued apology.