An "astonishingly stupid" special edition of the video game Dead Island: Riptide will come with a statue of a headless, limbless female torso in a Union Flag bikini.
The figure is splattered with blood and gore, and is "hand painted" with realistic injuries, exposed bone and wounds.
Only one aspect of the "vile" figurine is untouched - the 'victim's' breasts.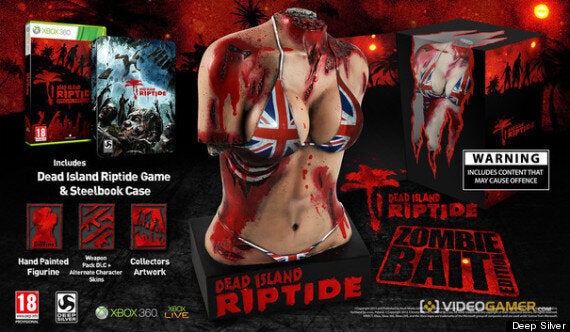 It is a 'play' on the Dead Island: Riptide's content, which depicts a zombie apocalypse on an island beach resort.
Publishers Deep Silver describe the "Zombie Bait Edition" of the game, which also comes with a special box and illustrations, as "Dead Island's grotesque take on an iconic Roman marble torso sculpture".
They add that it would make a "striking" conversation piece.
"Dead Island Riptide is one of the most anticipated releases of the year and is set to build on the original's reputation for OTT action, dark humour and brutal zombie bashing," said Paul Nicholls, Sales & Marketing Director at Deep Silver.
"We wanted to provide a unique collector's edition that was utterly 'Dead Island' and would make a striking conversation piece on any discerning zombie gamer's mantel."
The reaction from gamers has been almost universally negative. Many in the industry expressed a wearily exasperated tone with the news, after a string of highly explosive controversies on the subject of misogynistic violence and sexism in gaming.
John Walker at Rock Paper Shotgun said the statue was: "beyond disgusting. It's as if someone were attempting to demonstrate the most misogynist idea that could possibly be conceived, in an attempt to satirise the ghastly trend".
Related