Nick Clegg inadvertently lamented the death of his own party's values on Monday when he unveiled a plaque commemorating the founding of the Liberal Party and refereed to it as a "memorial".
As the Liberal Democrat leader reflected on the beginnings of the political party 150 years ago that led to the creation of the Lib Dems in 1988, he drew laughs from the crowd of about 25 people.
After a speech by Robert Davis, deputy leader of Westminster Council, Clegg said: "And also to reiterate your congratulations to the Liberal Democrat History Group who have done so much to raise funds for this memorial ... not memorial, this sign of our rich party's history."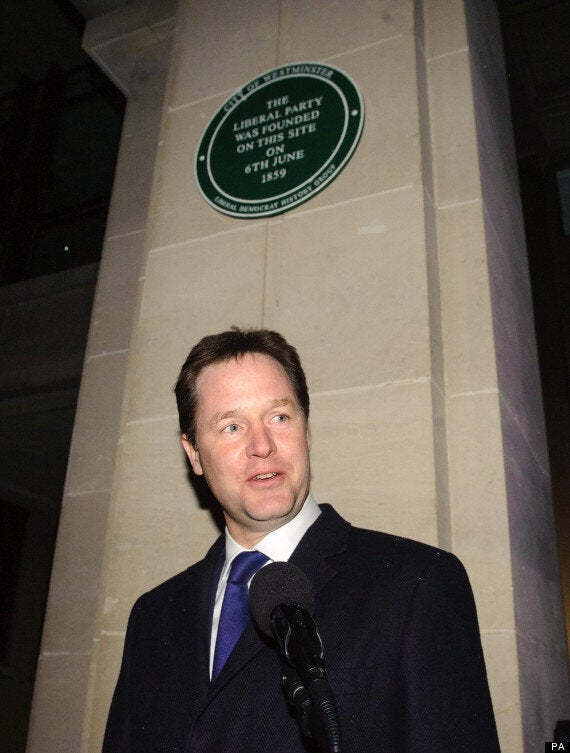 Nick Clegg and the "memorial"
Most historians date the Liberal Party's origin to a meeting at Willis's Rooms in King Street, St James's, London, on June 6, 1859, when Whigs, Peelites and Radicals united to form the Liberals.
Now a modern office building called Almack House, opposite auction house Christie's, the green plaque marks the site as the birthplace of one of Britain's most enduring political movements.
The plaque reads: "The Liberal Party was founded on this site on 6th June 1859."
Clegg, who was more than 20 minutes late, said: "There are many things about today which are different to 1859. I strongly suspect June 1859 was warmer than January 2013."
The Lib Dem leader described being asked to unveil the plaque as a "privilege" and reminded the crowd that back in 1859, the liberal politicians came together to "bring down the conservative ministry of the time whilst of course we are now in coalition with the Conservative Party of our time".
He added: "So much of what happened then has echoes today."
Clegg said the Liberal Democrats are still a "party proud of representing a wide coalition of views" and "representing the country as a whole".
He added: "Much has changed since then but much has endured and remained consistent over the ages as well."
Duncan Brack, of the Liberal Democrat History Group, which is sponsoring the plaque, said of that meeting a century and a half ago: "Among those attending were Lord Palmerston, John Bright and Lord John Russell - and the meeting paved the way for the political ascendancy of Liberal prime minister William Gladstone."
Davis described the occasion as "momentous" and said: "When Palmerston, Russell and their Radicals, Peelites and Whigs coalesced around the issue of Italian reunification, at this very location in 1859, I am sure everyone expected the union to be a temporary one.
"For generations British political life has been fluid, with numerous changes of government, factions and minority administrations.
"However, for what was then such a disparate union, the Liberal Party has endured, helping to shape so much of British politics since.
"And the timing of this unveiling could not be more appropriate, as its successor - the Liberal Democrat Party - once more finds itself in government."
Popular in the Community