It's been another great week for US TV's golden girl Lena Dunham. Hot on the heels of her Emmy Awards triumph at the tail-end of last year, the tattooed wunderkid picked up two Golden Globes, one for her comedy 'Girls', and another for her own performance.
AND the second series is back on our screens, only weeks after the end of Season 1 finale - in a big bow to audience demands on both side of the Atlantic... We want MORE.
And the good news it's gloriously dysfunctional, hilariously painful business as usual.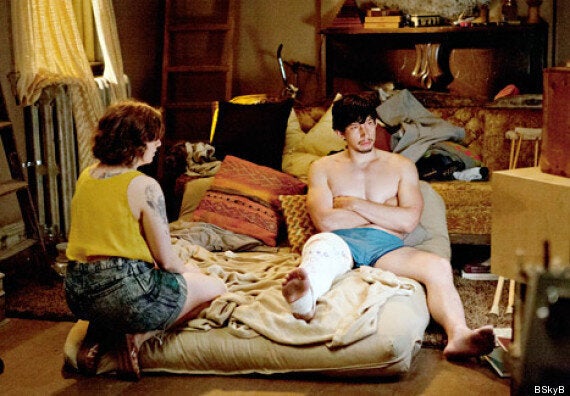 Girls are back.. but is Hannah's relationship with Season 1 squeeze Adam forever broken?
The first episode, screened last night on Sky Atlantic only 24 hours after its US debut (thank you Sky!) found Marnie (Allison Williams), who with her perfect dress code, cool beauty and deceptively innocent face should be every girl's best friend nightmare, still knee-deep in despond. Not only had her heartbroken ex Charlie moved on with unseemly haste, her boss then decided to "downsize" her over lunch (while "keeping Julian???"), while her mother could only report, "you look 30 years old." All of which miserable Marnie decided to remedy with a completely unsexy hook-up with temporarily bi-curious Elijah. All of which ended with a whimper, not a bang, after a romp that rivalled Hannah's very first encounter with Adam for watch-through-your-fingers unsexiness.
Elijah's much-older boyfriend taking issue with his unappreciative karaoke audience...
"What are you looking at, fake lumberjack guy? This is a first grade party full of losers!"
Love was flowing more freely for both newlyweds Jessa and Thomas-John (Jemima Kirke and Chris O'Dowd, whom I still haven't got used to see popping up in this), and Shoshanna and Ray (Zosia Mamet and Alex Karpovsky). Shoshanna was on hilarious form, coolly ignoring Ray at a party, until she channelled her inner Doris Day with a perfect "I am really tired of being insulted, even if it comes before a compliment, so I am now leaving". This was obviously an invitation for Ray to take her in his arms, which he dutifully did.
So everything was all right, apart from the disaster of Hannah appearing in the arms of a man. Which would be fine, except it's a Republican called Sandy, telling her "I love how weird you are."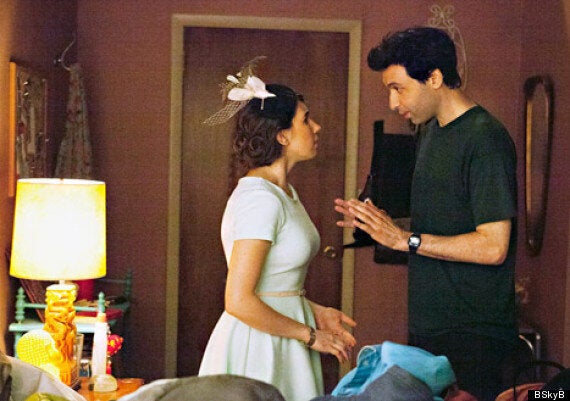 Shoshanna and Ray are having a better time of it...
Which means she's not with Adam, the brooding wannabe thespian, who is - I'll take no arguments - the hero of the series, and her undoubted life partner. He was in bed with a broken leg, feeling like he was hit by a truck, "which I did". He's rightfully sulking because, having finally agreed to fall in love with Hannah in Series 1, he's now having to deal with a broken heart, while she's having to deal with helping him pee in a pot due to the plaster cast. Doesn't she realise this is what true love looks like?
Move aside, Republican Sandy, you can't compete with the romantic words dripping from Adam's wounded soul when it comes to Hannah... "You're my main hang." He's not going anywhere.
Related