A cold snap will continue to hold the country in its bitter grip on Wednesday in a freezing prelude to a weather front that is set to bring the biggest snowfall of the winter.
Thermometers are set to plummet, with many parts of the country struggling to see the mercury rise above freezing. In Norfolk, workers woke up to temperatures of -13C. That is the lowest temperature recorded in the UK so far this winter.
Motorists will have to be wary as freezing fog that has formed overnight across the Midlands, East Anglia and central and southern England could make road conditions hazardous.
But while snowfall yesterday led to 42 schools being closed in Norfolk and all planes grounded at Norwich International Airport, overnight there was little more than a smattering of snow along the North Sea coast and down into Kent. A car travels down a snowy Edinburgh road
The other lowest temperature recorded overnight were -12.7C at Braemar in Scotland, MeteoGroup, the weather division of the Press Association said.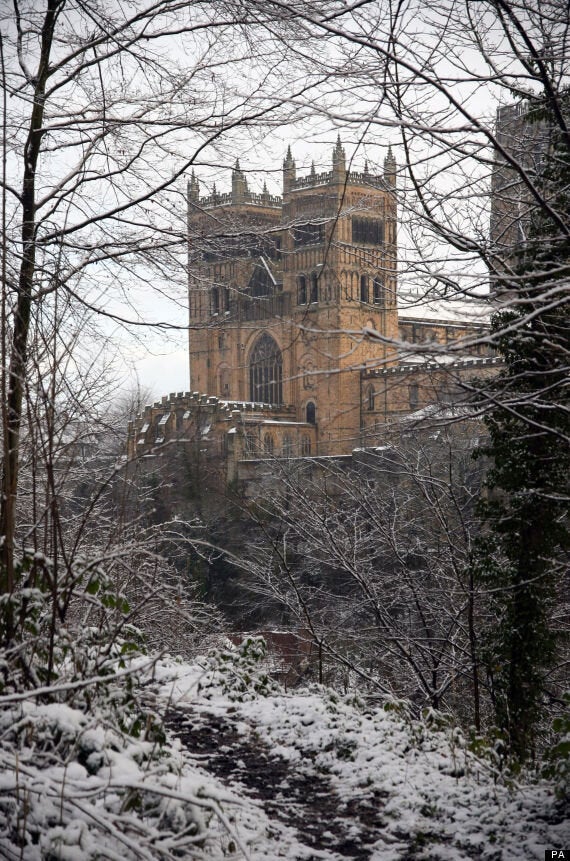 A general view of a snow covered Durham Cathedral in County Durham, as the winter weather continues across the UK
Gemma Plumb, a forecaster with MeteoGroup, said it had been bitterly cold for much of the UK overnight - average temperatures were between -3C and -7C, and -3C in London - with worse to come.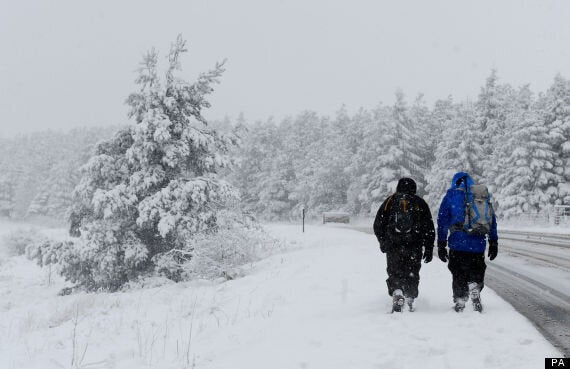 Two men start their walk at the snow covered Hole of Horcum on the North Yorkshire Moors
"Most places are looking like they will be dry today, with some sunny spells around. But fog and low cloud could linger in places like the East Midlands and East Anglia, with further outbreaks of sleet and snow across parts of western Scotland," Ms Plumb said.
"But it is going to be very cold today, with many places struggling to see temperatures rising above freezing.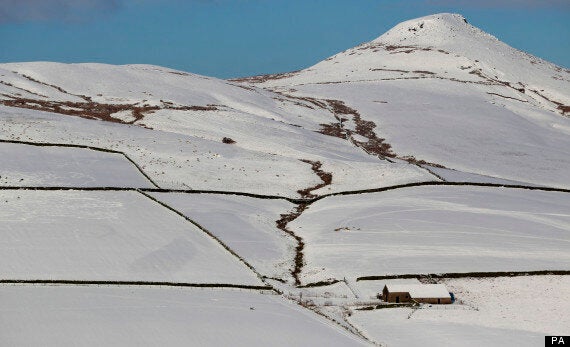 A farm house surrounded by snow close to Burntcliff Top in Cheshire as the winter weather continues across the UK
She added: "Parts of Scotland, northern England, Wales, the Midlands and East Anglia will be looking at maximum temperatures of -1C or zero.
"At the moment we are looking at 5cm to 10cm (2in-4in) falling quite widely across the country on Friday, with more than that locally, especially across higher ground." A woman walks her dog past a snow covered thatched cottage in Thornton Le Dale, Pickering, North Yorkshire
The bad weather yesterday caused havoc on transport networks. A six-vehicle pile-up on the A11 left three people injured, and the AA reported about 1,000 breakdowns an hour.
Darron Burness of the AA said motorists should take measures to prepare for the cold weather and coming snow.
"The main problem is flat or failed batteries, as the car's electrical system has to work much harder in the cold," he said.
"When you get in your car, switch off all the electrics before starting it - for example, blowers, lights and heated
windscreen - and dip the clutch while starting to take some of the load off the starter motor and, in turn, the battery."
The Highways Agency also warned motorists to take extra care on slippery and icy roads.
Popular in the Community