A fashion designer has grasped onto the coat tails of the gun control debate by sending his models down the catwalk equipped with automatic weapons.
Phillip Plein's Autumn/Winter 2013 show saw male clothes horses striding down the runway, wielding machine guns and assault rifles, and emblazoned in body paint slogans that read "ONLY KILL FOR LOVE" and "LIFE'S A GAME AND IT'S NOT FAIR."
Gas masks and balaclavas also featured in the show, as did dog tags and military boots.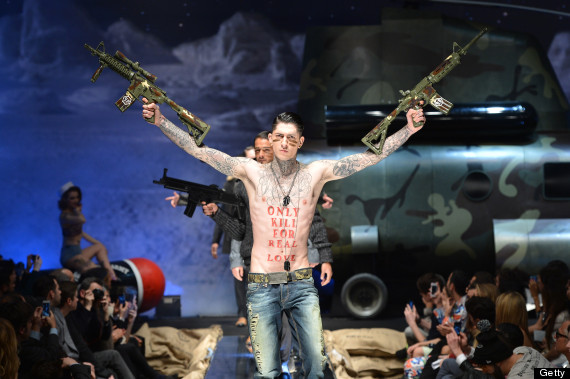 Fashion calibre: A model on the catwalk at Philipp Plein's Milan show
While the New York Daily News twitchily refers to "terrorist-style pullover masks", the Telegraph does point out however, that Plein did send one of his charges into the crowd clutching a teddy bear (albeit one made out of chain mail).
So, while the show undoubtedly left many feeling uneasy - it's got Plein lots of coverage.
SEE ALSO:
Let's not forget Plein is obviously trying to hone a reputation as the enfant terrible of fashion - he's featured Lindsay Lohan in ad campaigns, cast Ed Westwick in shows, and enlisted the lissome limbs of transsexual model Lea T.
But in the light of a gun massacre at a school which killed 20 children, is equipping your models with weapons a step too far?