Midweek sales figures released by the Official Charts Company show the actress is at number 21 in the single charts, with her co-star Samantha Barks, who plays Eponine in the film, at number 38 with her performance of 'On My Own'. Anne Hathaway who has already won a Golden Globe for her performance in Les Misérables
The film's soundtrack is also topping the midweek album charts ahead of Emeli Sande's 'Our Version of Events'.
'I Dreamed A Dream' last had a resurgence in popularity in 2009 when Scottish singer Susan Boyle performed it in her audition for the third series of 'Britain's Got Talent'. Her version made it to number 37 when it was released in the charts.
The famous song first appeared in the original Paris production of 'Les Miserables' from 1980 and was then called 'J'Avais Rêvé D'une Autre Vie' ('I had dreamed of another life').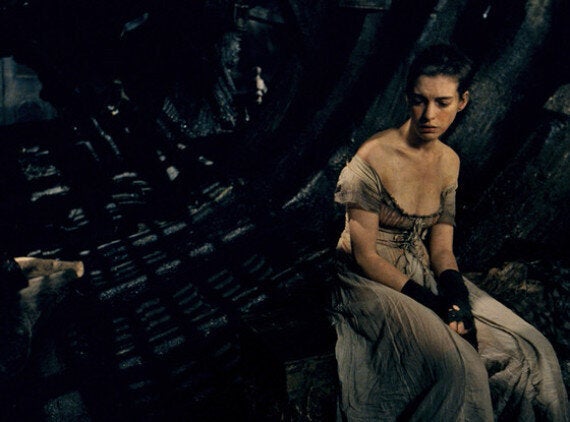 Anne Hathaway who plays 'Fantine' in the film version of Les Misérables is set for chart success
Meanwhile, the film has been a massive critical and commercial success, garnering an Oscar nomination for Best Picture.
Hathaway, who plays Fantine, has just scooped a Best Supporting Actress Golden Globe and is now preparing for the Oscars, where she's nominated again for her emotional role.
Here are 10 films that would rival it for snivels...