Updated: 17:57 17 January 2013 - more comments from Chris Barnes
The partner of the pilot killed in a London helicopter crash has paid tribute to a "remarkable man".
Pete Barnes died on Wednesday after his helicopter spun out of control and crash-landed after clipping a crane on top of one of Europe's tallest residential towers.
Matthew Wood, who was on his way to work was also killed in the incident, which occurred during rush hour above Wandsworth Road, in Vauxhall.
Captains Pete Barnes and Philip Louis Amadeus of Rotormotion
She said: "Obviously he would have been frantic and the lives of others would have been at the forefront of his mind.
"It sums up the man. I find it very comforting and so do the children."
The 50-year-old was one of the country's most experienced pilots, having flown choppers in Hollywood movies and ferried politicians and celebrities around the UK.
Pete Barnes was one of the UK's best pilots
Mr Barnes's brother Chris told the Daily Record it would have been his sibling's "instinct" to do whatever he could to minimalise casualties.
"Our condolences go out to the family of the other man who was killed, that's the last thing that my brother would have wanted to happen."
Mr Barnes also described his brother, who also flew as an air ambulance pilot, as a "good guy", the Press Association reported.
He said: "He was outgoing, very personable. A good-looking guy with an irrepressible smile.
"When he walked into a room you knew he was there, he lit up a room. He was a good guy."
Mr Barnes worked for "boutique" helicopter company Rotormotion, which counts David Cameron, the Dalai Lama and Simon Cowell among its regular passengers.
The experienced aviator had flown helicopters for over 20 years and had more than 9,000 hours experience in the air, according to the company.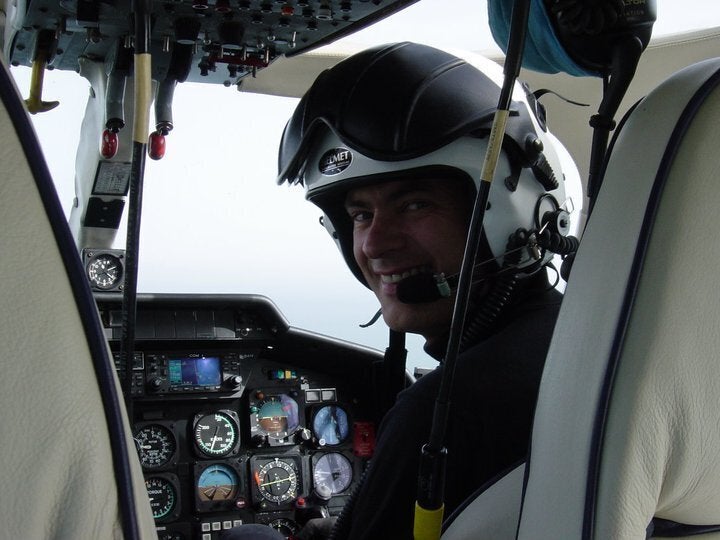 Helicopter Crash In Vauxhall, London