A "caring and quiet" teenager may have been out looking for a job when he was stabbed to death in the street.
Kieran Crump Raiswell, 18, had left his home and may have been intending to hand out his CV to shops and businesses in Manchester city centre as he had done the day before he was murdered, police said.
The youngster "had his whole life ahead of him", his family said, and was due to start university in September after finishing his gap year.
Police today discounted robbery as a motive and said they simply have "no idea" why he was targeted in an apparently random attack.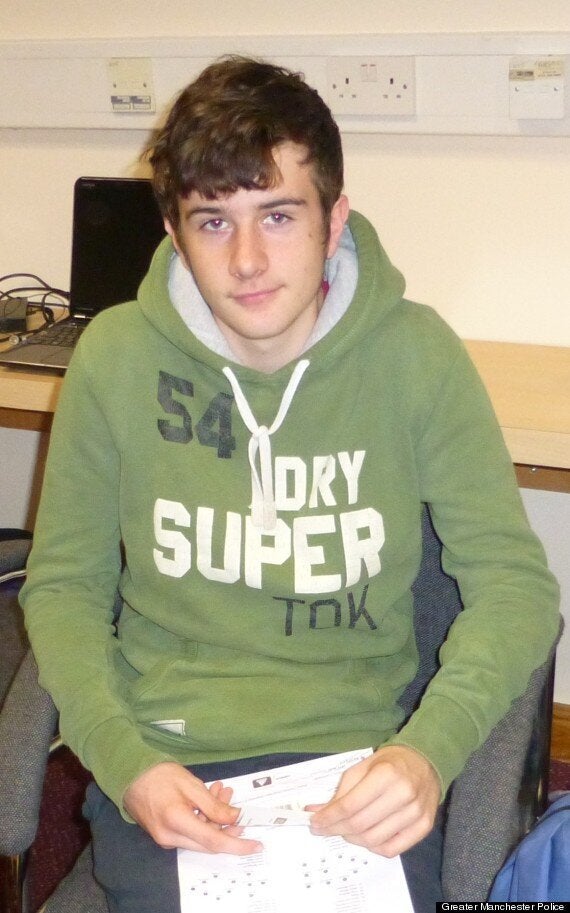 Kieran was described as having 'his whole life ahead of him'
They released CCTV footage of the victim walking along Upper Chorlton Road in Whalley Range, Manchester, taken just minutes before he was murdered.
The images were taken at a local Tesco just a few hundred yards further down the busy main road showing Mr Crump Raiswell listening to music on his headphones, carrying his CVs in his rucksack and apparently "oblivious" to what was to unfold.
Within seconds his killer emerged from bushes on a side street to the main road and attacked the victim from behind with a knife before running off.
Mr Crump Raiswell was given emergency first aid by the side of the road by a passing fire brigade crew but his injuries proved too severe and he later died in hospital, following the attack at around 2.20pm on Wednesday.
His attacker is described as a light skinned male, slim build, between 5ft 1in and 5ft 4in tall, he is young in appearance, possibly aged 16 or 17.
He has a short back and sides haircut and was wearing blue jeans and a black V-neck jumper with the Versace sign printed on the front and back in red.
Det Chief Insp Peter Marsh of Greater Manchester Police (GMP) said none of the victim's property is missing and admitted detectives were struggling to find a reason why the killer attacked.
"We really have at this stage no motive, because it's not a robbery and we don't know why he's done this," he said.
"I've got to say he seems oblivious to everything, when you look at it. He's got a set of earphones on.
"It doesn't even seem to be an attempt robbery.
"He lives in the area and I believe he was walking into town along Chorlton Road. We do know that the day before he had been into town giving his CV out for a job, he had his CV in his bag, he may well have been going to do that again.
"What we do know is that the assailant was by the side of some bushes on Stamford Street.
"As Kieran has walked across the road the assailant has come up behind him and attacked him.
"It's a long road Upper Chorlton Road, we would like to know if Kieran has spoken to that individual or there has been anything that's made that individual attack him."
Mr Marsh also made a direct appeal to the killer to give himself up.
"If that person is listening now, it is just a matter of time we get to you, it's about time you made contact with us and we can deal with the matter," he added.
Mr Crump Raiswell lived with his father, an interpreter, and mother, a council worker, along with a younger brother and sister in the Chorlton area of south Manchester.
A Manchester City FC season ticket holder, he also played for a local amateur football club, coached youngsters at his younger brother's football club and played cricket at Sale Cricket Club.
He was due to go to Sheffield Hallam University in the autumn to study history.
In a statement the family described him as a loving, caring, quiet and easy-going young man.
Mr Marsh added: "They have no idea why we have this motive to kill.
"He's left Loreto College last year, I can find nothing that would indicate he has upset anybody or have cause to be targeted in any way.
"We don't always have to have a motive for a crime, to prosecute a crime, and I have no idea why he's been attacked."
Anyone with information is asked to call police on 0161 856 4711 or contact the independent charity Crimestoppers, anonymously, on 0800 555 111.