UPDATE: As many as 20 Britons caught up in Algerian hostage crisis have returned to UK, with a further four expected home by lunchtime, Sky News has reported. The Foreign Secretary is expected to make a statement later on Sunday.
Five British nationals and a UK resident are believed dead or missing as the Algeria hostage crisis ended in a bloody and violent climax.
Foreign Secretary William Hague announced the latest casualties after Algerian special forces mounted a "final assault" on the remaining Islamist militants still holding out at the remote BP gas plant at In Amenas.
"On the basis of the information that we have this evening, we believe that there are five British nationals or one British resident who are either deceased or unaccounted for, in addition to the one fatality that we had already confirmed," he said.
"We are working hard to get definitive information about each individual. We are in touch with all of the families concerned."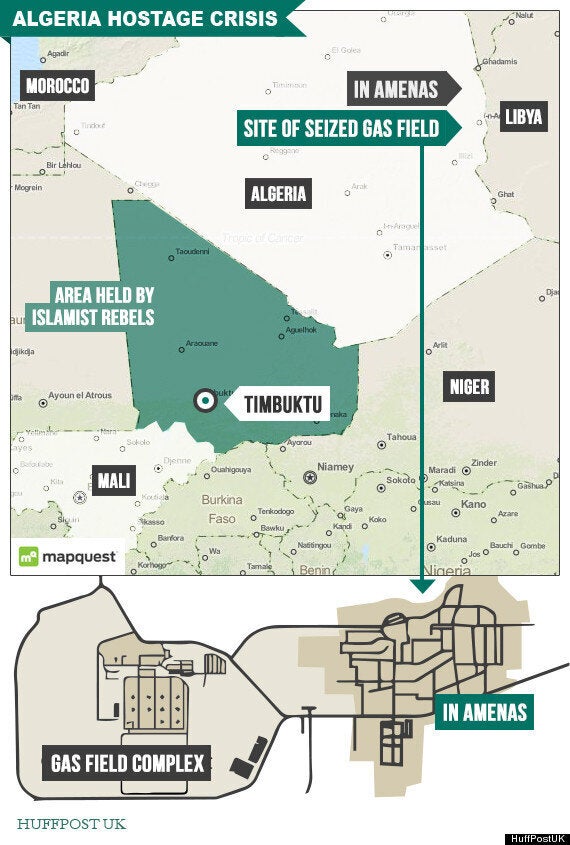 The Algerian Interior Ministry said a total of 23 hostages and 32 terrorists had been killed, and 107 foreign workers and 685 local workers had been released.
In a statement on Saturday night the ministry said troops had recovered six machine guns, 21 rifles, two shotguns, two 60mm mortars with shells, six 60mm missiles with launchers, two rocket-propelled grenades with eight rockets and 10 grenades in explosive belts.
Earlier, David Cameron said that he had spoken to Algerian prime minister Abdelmalek Sellal, who confirmed that the four-day hostage crisis was "effectively ended".
"I know that the whole country shares my sympathy and concern for everyone who has been caught up in this incident, and for their friends and families," the Prime Minister said in a statement.
"It is our priority now to get people home as quickly as possible and to look after the survivors. Many are already home or on their way back.
"Let me be clear. There is no justification for taking innocent life in this way.
"Our determination is stronger than ever to work with allies right around the world to root out and defeat this terrorist scourge and those who encourage it."
Seven hostages and 11 of the Islamist militants holding them were reported to have died in the final shoot-out in the vast desert complex close to the Libyan border.
The Algerian state news agency, APS, quoted an Algerian security source as saying that the hostages who died were killed by their captor.
The Algerian authorities were tonight removing explosives left by the militants who booby-trapped the plant before the final battle. The kidnappers are linked to a terrorist splinter group led by veteran jihadist Mokhtar Belmokhtar
Mr Hague, speaking after chairing the second meeting of the day of the Government's Cobra emergencies committee, refused to be drawn into criticising the Algerian rescue operation, despite the death toll.
"I don't want to at this stage enter into criticism or judgment because there will be a lot to be learned yet about this operation," he said.
"Our focus is very much on getting British nationals who have survived this ordeal and away from that area."
Defence Secretary Philip Hammond said: "The loss of life as a result of these attacks is appalling and unacceptable. We must be clear that it is the terrorists who bear sole responsibility for it."
The kidnappers, part of the Masked Brigade - a terrorist splinter group led by the veteran jihadist, Mokhtar Belmokhtar, which broke away from al Qaida in the Islamic Maghreb - initially claimed the attack was in retaliation for the French military intervention in neighbouring Mali.
It was subsequently reported that they were demanding the release of two terrorists held in the US, including 1993 World Trade Centre bombing mastermind Omar Abdel Rahman, in return for the release of two US captives.
The plant at In Amenas is jointly operated by BP, Norwegian company Statoil and Algerian state oil company Sonatrach.
Meanwhile, BP chief executive Bob Dudley said the company was "unable to confirm the location or situation" of four employees at In Amenas and had "grave fears" that they are likely to have suffered fatalities.
One Algerian worker, who gave his name only as Chabane, described how from his hiding place he heard the militants speaking among themselves with Libyan, Egyptian and Tunisian accents. At one point, he said, they caught a Briton.
"They threatened him until he called out in English to his friends, telling them 'Come out, come out. They're not going to kill you. They're looking for the Americans'," he said.
"A few minutes later they blew him away."
Related