The Algerian military did a "bloody good job", a survivor of the Sahara hostage crisis has said.
Peter Hunter, 53, from Durham, was reunited with wife Kerry in the early hours on Monday after he spent days in hiding at a secret location at the sprawling plant. Peter Hunter pictured with his wife, Kerry, said he had 'no complaints' about the Algerian forces
Speaking at his local pub where he sipped a cup of coffee, the BP construction supervisor said: "The Algerian authorities and military did a bloody good job.
"You have a bunch of raving lunatics killing people randomly.
"People laid down their lives for this.
"Everybody will have a different opinion about the army and the special forces but what they did for me - I have no complaints."
He was struck dumb when he was finally able to ring his wife on a satellite phone to tell her he was safe on Saturday.
"Nothing came out when I opened my mouth," he said.
"As soon as I heard Kerry's voice, my words were garbled.
"I told her I was OK, that I was safe and I was using a satellite phone."
Mrs Hunter, 41, was warned by UK police that the phone call may have been staged, and that the terrorists had forced him to tell her he was all right.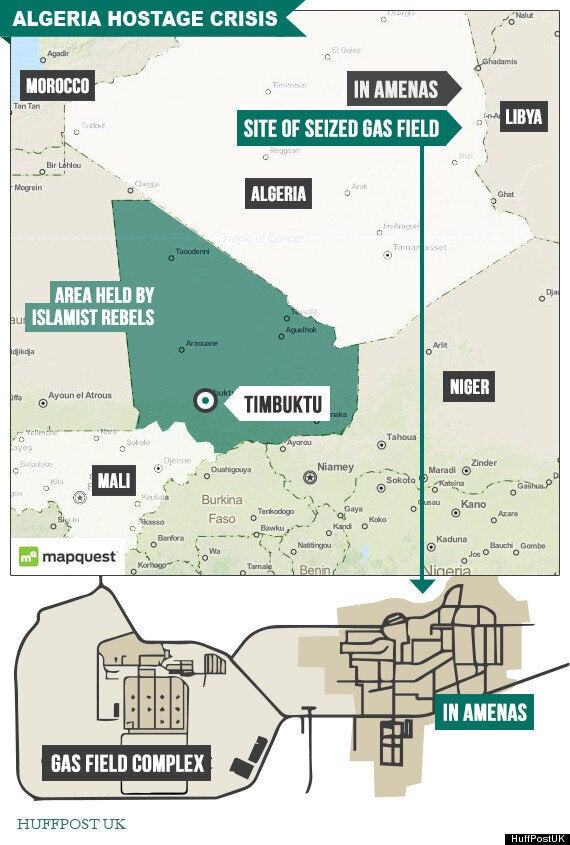 It was only in a follow-up call five hours later that Mr Hunter seemed his cheerful self again, that she was convinced he was safe.
They were finally reunited at a snowy Newcastle Airport after a long journey back from Algeria, via Gatwick and a three-hour debrief in this country.
Mr Hunter, who worked four weeks on and four weeks off at the plant, never saw any terrorists during the crisis, nor any casualties.
He followed company procedure and hid in a secret location, having stocked up with water.
He first knew of any incident when he saw red tracer fire come over the top of one of the buildings within the site before dawn on Wednesday.
"I stood stationary and heard some small arms fire in the distance," he said.
"An incident alarm sounded and we had a procedure in place which we implemented which was to go to our safe haven."
Around 10 minutes after the initial fire, Mr Hunter said all the lights went out, pitching the site into darkness.
"Things went quiet, then there was more gunfire," he recalled.
Mr Hunter, a father-of-four who has worked extensively in the Middle East and since August 2011 in Algeria, hid with his Norwegian co-worker Oddvar Birkadel.