US men's magazine GQ has come under fire for its '100 sexiest women of the century' list, which categorises some women according to their race and ignores the heritage of others.
Critics have slammed the magazine for suggesting that women of certain ethnicities are only 'sexy' in relation to their own race, while others are deemed universally attractive.
According to the list, Beyoncé and Gisele Bündchen are considered hot irrespective of their African-American or Brazilian roots, while Frieda Pinto and Zhang Ziyi have been crowned 'hottest Indian chick' and 'hottest Chinese chick' respectively.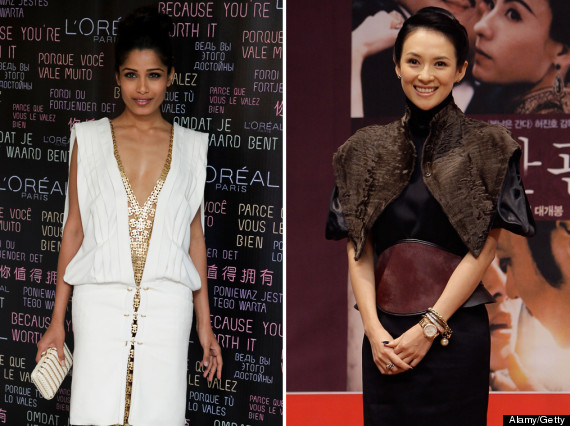 Frieda Pinto and Zhang Ziyi have been crowned 'hottest Indian chick' and 'hottest Chinese chick'
"By calling out certain women's ethnicity and not others, what they're implying is that these women are not beautiful simply because they're beautiful; they're only attractive within the context of their own ethnicity," Ruth C. White, Ph.D., associate professor of social work at Seattle University told Yahoo!'s Shine.
Dr White added: "If the magazine were saying, 'These are all the beautiful women from every country in the world', that would be a bit different; that's what the Miss Universe pageant is all about."
But it's not, clearly.
Women ranked according to their race include:

Hottest Indian Chick: Freida Pinto
Hottest Pregnant Sri Lankan: M.I.A
Hottest Italian Chick: Monica Belluci
Hottest Chinese Chick: Zhang Ziyi (sometimes credited as Ziyi Zhang)
"I don't think the GQ poll is racist, otherwise Beyonce would not have been voted number one. I doubt the article was written to cause offence, it's all a bit of fun. But perhaps they should be more careful with categories next time," said Sarah Tetteh, HuffPost UK celebrity blogger.
"If you're hot, you're hot. It doesn't matter about your colour, ethnicity or race."
Many people have taken to Twitter to express their outrage at the list.
One user wrote: "Yeah. I see why GQ is getting backlash. You can't have the category 'Hottest Chinese Chick' & not have 'Hottest Black Chick'"
"Kinda offended that GQ had to have a 'hottest Chinese chick' category," Tweeted @beckywhy.
Do you think of the categories used in the list are offensive? Let us know in the COMMENTS below