This is the moment when fire officers braved the freezing waters of a park lake to rescue a teenage boy who had fallen through the ice.
Officers from the West Midlands Fire Service had been called out to Sutton Park in Birmingham on Tuesday afternoon after the boy had fallen into the water while walking on the ice. He managed to get out and take refuge on an island but was suffering from the effects of the cold weather and freezing water.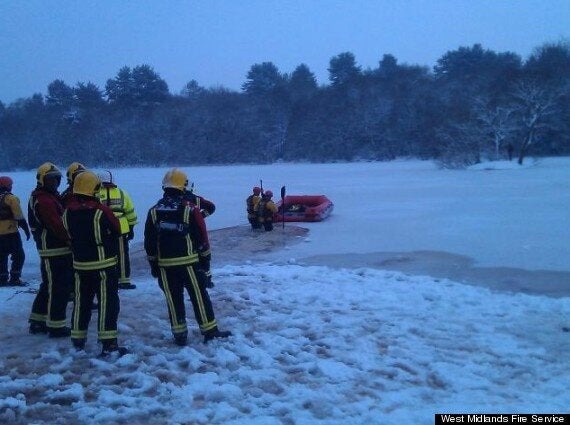 Fire crews prepare to rescue the stranded boy who had taken refuge on an island (far right)
Five crews from Sutton Coldfield, Erdington and Perry Barr, and a water support team were sent to the scene where they worked with park rangers, the police and ambulance service to rescue the unidentified boy, who the WMFS said was believed to be 15 years old.
A spokesman for West Midlands Fire Service said the event was a warning to others.
"This incident is a very timely reminder about the need for us all to stay safe and sensible in these very cold weather conditions," the spokesman said.
"As sturdy as it might look, there is no way of knowing the thickness of ice on pools, lakes and other waterways. Please stay off it, and make sure that any children you know are aware of the dangers.
"People who put themselves at risk by venturing on to ice also endanger the lives of anyone who might have to rescue them.
"We're also urging dog owners to keep them on leads, so that they and their pets don't get into difficulties."
After being rescued by fire crew in an inflatable raft, the boy was taken to hospital.