Is dry January harming the alcohol industry?
The phenomenon, popular with city workers but increasingly being adopted by adults outside of the south-east, sees adults abstain from drinking alcohol for the whole of January.
But what effect is this having on the economy and industries related to booze? And are we seeing an equal surge in the volume of non-alcoholic drinks being consumed instead?
The short answer is that there are more factors at play for our reduction in booze levels, namely taxation, a better range of non alcoholic drinks, and pressure on our wallets.
For most of us, January is a time of year for watching the pennies after spending enormous amounts in the run up to Christmas - and blowing a bit more on New Year's Eve.
The rising price of drinks has definitely seen some consumers reducing how many times in a week they go out, their alcoholic drink intake has dropped too, and seem some switch to soft drinks.
There has been a bit of progress in the low-alcohol drinks segment, which are (theoretically) able to provide beer and wine at a more affordable price point.
But depressing figures were released on Friday by the British Beer and Pub Association, which showed the number of beers sold had fallen for the eighth year in a row.
In total, 381 million fewer pints being drunk across the whole of 2012. Pub beer sales slumped by 4.8% in the final quarter of 2012 compared with a year earlier, with total beer sales down by 4.7% over the year.
Around 138 million fewer pints of beer were drunk in the final quarter of 2012 alone. Sales of beer in supermarkets and shops also fell by 7.5% in the final three months of 2012 compared to the previous year.
But the fall in beer is being blamed on something far more serious than some adults abstaining for a month - The British Beer and Pub Association (BBPA) believe the drop illustrates how the government's "damaging" tax policy is hitting the pub trade. Brits are drinking less beer - but is the rising price of a pint the reason?
The association has joined campaign groups in calling for a review of the beer duty escalator, introduced in 2008, which sees tax on beer increase by 2% above inflation each year.
More than 100,000 people have signed a petition in protest at the extra tax, urging the chancellor to announce in the March Budget that it will be scrapped.
Brigid Simmonds, chief executive of the BBPA, said: "These figures show that the government needs to stop its full-on tax assault on our vital beer and pub industry.
"We've had tax hikes of 42% since March 2008, which is hugely damaging and completely unacceptable for such an important manufacturing sector. Instead, we could be protecting and creating jobs at a time when the country most needs it."
Beer sales support around a million jobs and generate almost £8 billion in tax revenue, according to the association.
Analysts have predicted that another rise in beer tax in the next Budget could lead to thousands of job losses in the industry.
If alcohol sales are plummeting, could the pub and bar industry recoup some of its costs with non-alcoholic alternatives? A number of soft drink brands are doing well as consumers want a better range of credible and tasty alternatives to straightforward carbonated soft drinks from tap.
Chris Wisson, senior drinks analyst from Mintel, told the Huffington Post UK brands like Fentiman's and Hartridge's, which are improving their distribution as pubs respond to consumer demand, are doing well.
"Essentially it boils down to getting better value for money and for soft drinks not to be seen as a compromise but creditable in their own right," he said.
"They are also being seen as an attractive alternative for eating out lunch, for example, when alcohol might not be desired or suitable." Soft drink sales are on the increase, regardless of any boost from Dry January purchases
Function drinks is another growing trend, with consumers looking for products which offer additional benefits, such as added vitamins and minerals.
"This tangibility is one of the reasons why energy drinks continue to perform so well. Convenience and exotic flavours are other factors which consumers are becoming more demanding of which is helping to keep the soft drinks market 'fresh'," explained Wisson.
A Mintel report in June 2012 found the carbonated soft drinks market was performing well in spite of the recession, as consumers continued to regard them as an affordable treat.
The market is expected to see steady growth over the next five years, with Mintel forecasting a 20.1% rise in value sales by 2017 to £5.4bn.
However, this will be mainly driven by inflation, with a modest 7.5% rise expected in volumes to 3.9bn litres.
Bars and pubs can traditionally find January a quiet month, but Sarah Swaysland, marketing manager for London's Be At One bar chain, wasn't going to let take it lying down.
"The alcohol abstinence, coupled with the terrible weather which also affected peoples' desire to go out drinking will always be a challenge, but this year we decided to think about it a bit differently," she told the Huffington Post UK.
"We attempted to combat 'Dry January by being creative with our marketing. We created the 'Adopt a Bartender' campaign and added an extra hour of Happy Hour to every day of the month of January, ensuring our guests had a compelling offer which our bartenders could engage with."
What started off as a tongue-in-cheek idea quickly became a social media success story; Be At One featured its bartenders on social media platforms, facilitating the connection between our bartenders and its punters – and the chain appears to have had the last laugh. January like-for-like sales have seen a growth of 12.2%.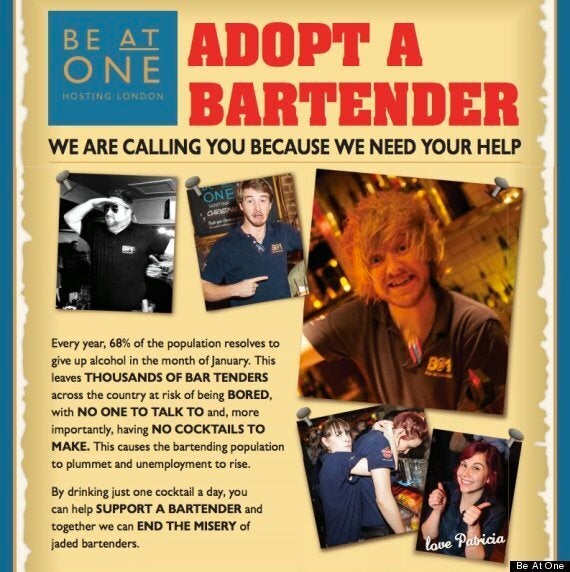 Part of the Be At One campaign
"Most hospitality businesses report negative sales figures in the month of January, where ours are very positive," said Swaysland.
Interestingly, non-alcoholic cocktail sales haven't increased at all, and remain static at 0.5% of its overall cocktail sales.
Other great retail January campaigns cited by Swaysland included the Pret a Manger 'Diets are Sad' campaign, which stresses that if you eat well throughout the year, you shouldn't need to diet.
Related