A seal pup named Smartie lived up to his name after breaking out of a car boot and wriggling his way up to the dashboard of the vehicle.
The adventurous pup had been picked up earlier by workers who spotted him in a busy lorry park in Stranraer, close to the Cairnryan ferry in Scotland.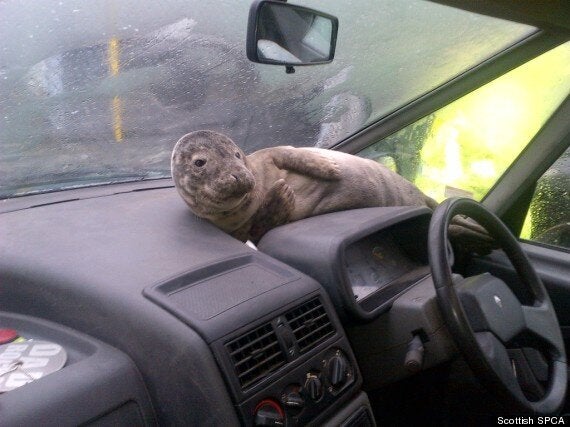 Smug: Smartie spreads out on the car dashboard
To keep Smartie out of mischief while they waited for an officer from the Scottish SPCA, he was placed in the boot of a car. However, the six-week-old pup had other ideas and somehow managed to squirm his way to the front of the vehicle, before eventually coming to rest on the dashboard.
SPCA officer Alistair Hill said: "The weather in the area was particularly bad last week, with winds of 50-60mph and very stormy seas.
"The seal pup had made its way into the lorry park via a steep, man-made banking. It would have taken a lot of effort for him to get up there and he had no intention of returning to the choppy waters.
"Normally we'd ask people to leave seals alone until we arrive but there was a risk he could have been injured in the busy lorry park so a member of staff put him in their car until I got there.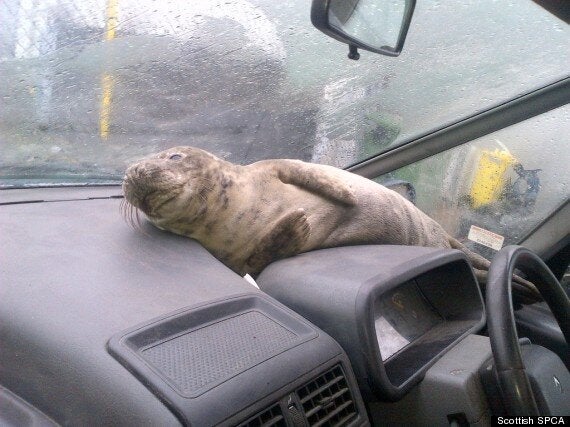 Sleepy: The mini mammal catches 40 winks
"However, the seal managed to escape from the boot by pushing down one of the rear seats and wriggling up onto the dashboard.
"He is clearly a very smart seal as he ended up watching the storm out the windscreen of the car from his warm, dry spot on the dash."
Smartie is recovering from his adventure at the Scottish SPCA's National Wildlife Rescue Centre near Alloa.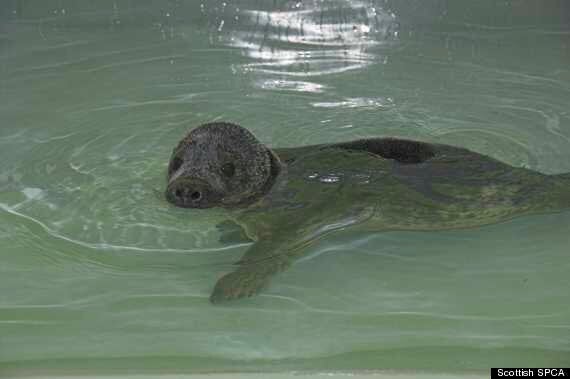 Back in the game: Smartie is recovering at a wildlife centre before being released back into the sea
Centre Manager Colin Seddon said, "Smartie was weak and dehydrated when he first arrived but he's now doing really well in our care and already feeding himself.
"He's currently housed in an individual seal pen which has a wet and dry area for him. As he grows in strength and size we'll move him to one of our outdoor pools where he'll interact with other seals and get used to swimming and feeding in the deeper water.
"We hope to return Smartie to the wild in about a month's time, but only when we're sure he's fully fit and able to fend for himself."
Anyone who discovers an injured or distressed animal should call the Scottish SPCA Animal Helpline on 03000 999 999.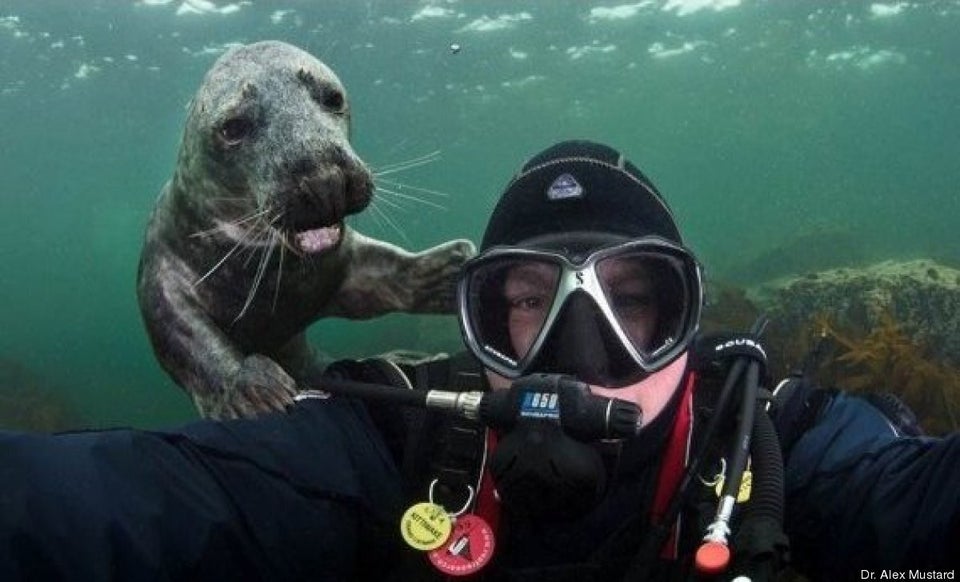 125 Animal Photobombs