Fancy waking up to find a parcel crammed full of 20 of the best books from the past year delivered to your front door?
Then you're in luck. We've teamed up with the Costa Book Awards to give away all of the shortlisted titles from the prize, which concludes this week.
The Costa Book Awards are unique in that they use a category system - First Novel, Novel, Biography, Poetry and Children's Book - to highlight books and authors across several genres, meaning there's something for all tastes.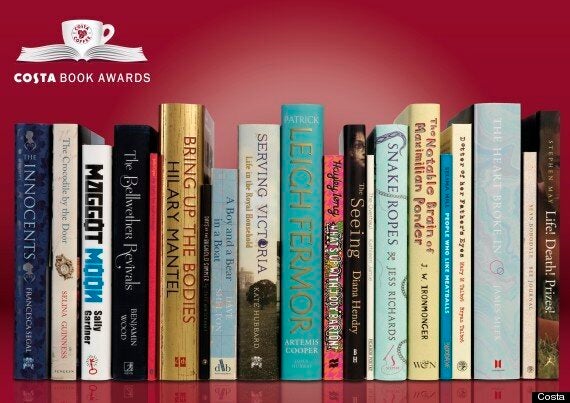 And while the individual winners have already been announced, we're still waiting to find out which of those five will win the ultimate accolade of Costa Book of the Year.
Whichever it is, it's sure to be somewhere in your parcel if you win. Here's all the great titles we're giving away:
2012 Costa Novel Award shortlist
Hilary Mantel - Bring up the Bodies
Stephen May - Life! Death! Prizes!
James Meek - The Heart Broke In
Joff Winterhart - Days of the Bagnold Summer
2012 Costa First Novel Award shortlist
J W Ironmonger -The Notable Brain of Maximilian Ponder
Jess Richards - Snake Ropes
Francesca Segal - The Innocents
Benjamin Wood - The Bellwether Revivals
2012 Costa Biography Award shortlist
Artemis Cooper - Patrick Leigh-Fermor: An Adventure
Selina Guinness - The Crocodile by the Door: The Story of a House, a Farm and a Family
Kate Hubbard - Serving Victoria: Life in the Royal Household
Mary Talbot and Bryan Talbot - Dotter of Her Father's Eyes
2012 Costa Poetry Award shortlist
Sean Borodale - Bee Journal
Julia Copus - The World's Two Smallest Humans
Selima Hill - People Who Like Meatballs
Kathleen Jamie - The Overhaul
2012 Costa Children's Book Award shortlist
Sally Gardner - Maggot Moon
Diana Hendry - The Seeing
Hayley Long - What's Up with Jody Barton?
Dave Shelton - A Boy and a Bear in a Boat
There'll only be one main winner, but two lucky runners up will get a Costa Coffee Card with £20 worth of credit on it - in other words, free coffee!
Related