As a Manchester United fan, The 6-1 was the most traumatic game I've attended. Just 19 months old when The 5-1 happened in 1989, I had witnessed United lose 2-1, 3-1 and 4-1 to crap City sides, which was humiliating even for a southern-based Red. But The 6-1 was chastening for two reasons: the winning margin and the fact City were now unquestionably a better team just four seasons on from Michael Ball being fooled by a balloon.
Struggling to look on the bright side of life on the way home, it wasn't until I braced myself for the masochism of that evening's highlights. Mario Balotelli's opener had prompted the revealing of a T-shirt alas, from south stand block 121, it was impossible to make out what it read. The reveal came on Match of the Day 2 and it read "Why Always Me?" It was the first time I laughed all day.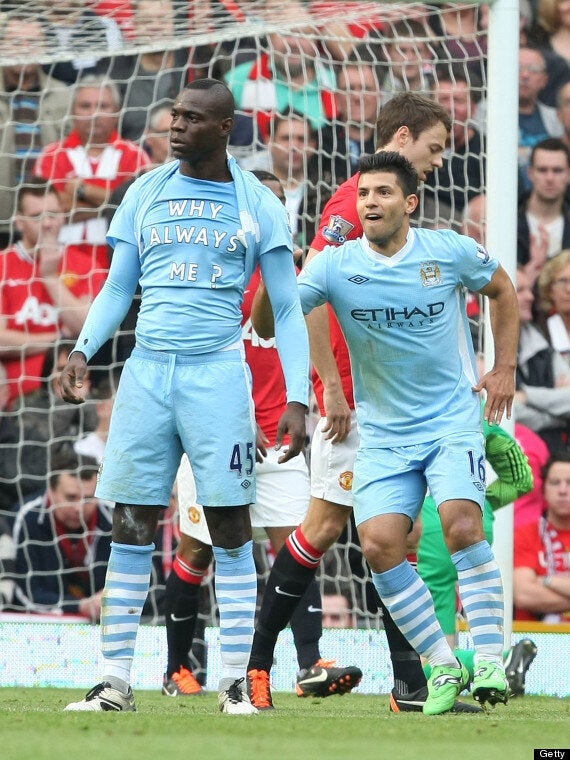 Balotelli enjoys scoring the opener in the Manchester derby
Balotelli was referring to a firework being let off in his bathroom two days previously, setting his house alight. When the firemen arrived, he allegedly tossed them the keys and informed them, "I'll be at the Radisson." Already that year he had been substituted in Kiev because he was allergic to the grass and confirmed he had had a "s**t season". It was chic to like Balotelli.
Two months earlier the reaction he sparked on Twitter for a barmy act of impudence in a friendly against LA Galaxy suggested he had just decked the Queen, such is the sad state of modern football. However some, including yours truly, defended him. He was a a sandwich short of a picnic, but he was a maverick, and football was severely lacking in mavericks.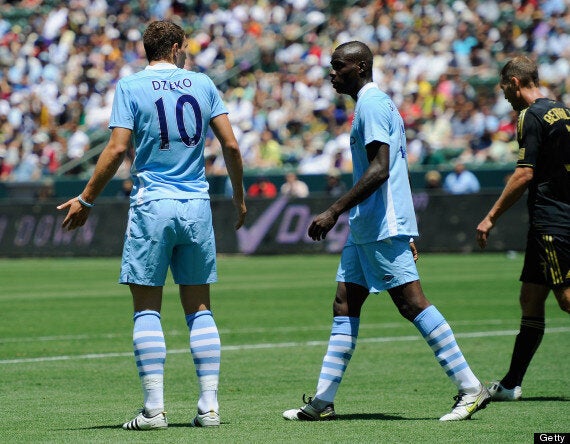 Edin Džeko is unimpressed by Balotelli's failed trick shot
Then Noel Gallagher intervened. In a cringing interview that was as stimulating as the former Oasis man's solo career, Gallagher reeled off a list of incidents which had supposedly happened.
Did you give a tramp £1,000 after winning in the casino? Did you go to church on Christmas Eve and put £1,000 in the collection plate? Did you go to the pub in Wythenshawe and buy everyone a drink? Did you go to a petrol station and pay for everyone's petrol? Did you drive around Manchester dressed as Santa handing out money? The answer to every question was "No".
The wacky myths dispelled, Balotelli then tried to live up to the wacky myths and his form nosedived. On Easter Sunday he hit the self-destruct button and was sent off at Arsenal, where it was visible he had another pre-printed T-shirt on underneath which read "YOLO" (I have no idea what that stands for). Wayne Rooney couldn't resist taking a dig on Twitter. Even the most anodyne of pundits were cutting loose like Ned Flanders in Las Vegas to slate the tedious and tiresome Balotelli. The T**t in the Hat, as some referred to him as. Balotelli checks on the well-being of Alexandre Song after an horrific tackle
However behind every attention-seeker is a mentor. Piers Morgan has CNN, who overlook the former Daily Mirror editor publishing false photographs of British soldiers abusing Iraqi prisoners. Daily Mail agent provocateurs have the Daily Mail and Balotelli has Roberto Mancini.
Mancini, as previously stated before, is not as good a manager as his nine major honours in Italy and England suggest. His success in Europe's boot was owed greatly to the Calciopoli scandal and tainted by European failure and although he ended City's 35-year trophy drought and guided them to their first title in 44 years, it came at a cost of £291.75m and he still can't progress past the Champions League group stage.
Now Balotelli's gone, it would be logical for Mancini to follow him. For Mancini was the man who convinced City's owners to part with £24m for the irascible Italian, who signed a £170,000-a-week contract in August 2010. That amounts to roughly £11.56million in wages alone, excluding goal and win bonuses. City have sold him for £20m. Billionaires or not, an £11m+ hit on a player who had the gall to take the club to a tribunal is humiliating.
Balotelli's baggage was infamous before he arrived at Eastlands. He introduced himself to British audiences with Internazionale in 2009, hacking down Manchester United's Cristiano Ronaldo in both matches of the clubs' last 16 tie before stooping over the Portuguese and insisting he dived. The inferiority complex cried "enigmatic". José Mourinho had to handle the controversy which stemmed from him wearing an AC Milan shirt the following season.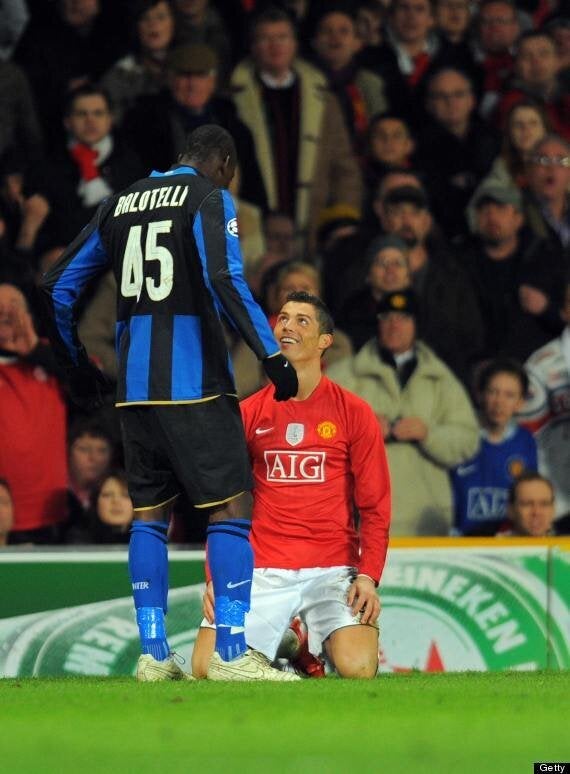 Ronaldo sees the funny side
And Balotelli again caused uproar in the Champions League semi-final against Barcelona in 2010 when he threw his shirt to the ground after the final whistle in response to Inter fans who had booed him. Some disgruntled supporters tried to attack Balotelli after the game.
Yet despite the background information, reputation and cost the Abu Dhabi United Group still gave Mancini the green light. It wasn't until this month's training ground confrontation (Scott Sinclair's outstanding contribution for City?) that the camel's back, sprained on several occasions, was finally declared broken. It probably already was after Balotelli's feckless derby display against United in December and his infuriating inconsistency, but such was Mancini's stubbornness in persevering with his former pupil at Inter there was a reluctance to let go. A disgruntled Balotelli is substituted against United in December
Mancini admittedly dealt with Balotelli well last season. After the LA incident he lightened up and City played their best football at the beginning of the campaign, with Balotelli instrumental. After the Arsenal red card, City thrived during Balotelli's suspension and he wasn't risked in a match until the 76th minute on the final day of the season against QPR as City laid siege to their opponents' goal. Balotelli provided the assist for Sergio Agüero's title winner.
It should merely have been a stay of execution, though. Balotelli has not looked remotely close to being one of the best players in the world - which Mancini and the man himself billed him as - and had Robin van Persie become a blue and not a red he may have been the obvious fall guy. But Mancini, resembling Veruca Salt as he wanted it all but got just Jack Rodwell until deadline day, always seemed reluctant to bid arrivederci. And even if he wasn't he will doubtless blame Brian Marwood.
But Marwood is not culpable for starting Balotelli in City's biggest game of the season at home to United. It smacked of Mancini attempting to prove a point, imploring Balotelli to rekindle the magic he weaved at Old Trafford 14 months earlier when he reduced Jonny Evans to a performance Pat McGibbon would wince at. Fifty-two minutes in, an exasperated Mancini had had enough and Carlos Tévez was bidden to galvanise the champions. It proved to be Balotelli's final chance and final start.
"For me, Mario was like another one of my children," Mancini confessed after City's goalless draw with QPR. "I've invested a lot of time with all the players. With Mario, maybe more." £30m more than it was worth.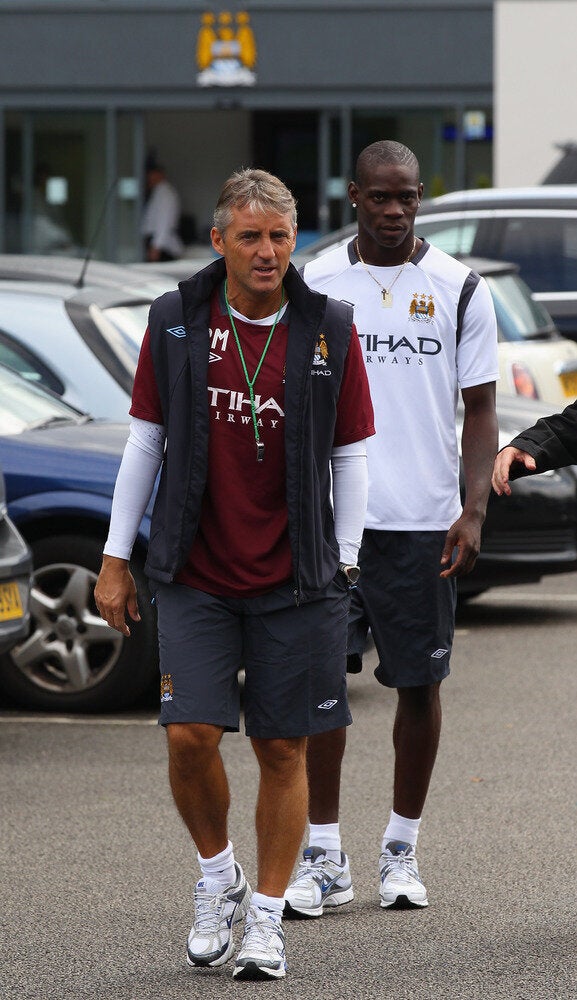 Mario Balotelli's Manchester City career