A duck shot through the head with a crossbow bolt is evading capture and treatment from the RSPCA in a Barnsley park.
The elusive mallard was spotted in Dearne Valley Country Park and appears to be relatively unconcerned by its new adornment.
An RSPCA spokesperson said: "We have made attempts to catch the duck - but it is still very mobile and active and therefore flies off when we get near it.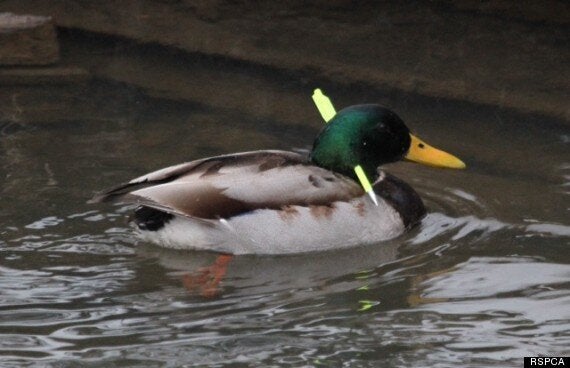 Attempts were made on Tuesday to catch the duck but to no avail
"One of our officers thinks that there is a chance that the arrow appears to have gone through it's ear canal and missed the vital organs."
RSPCA officers and local fishermen are continuing to monitor the bird.
The offence is punishable under the Wildlife and Countryside Act and the maximum penalty would be a £5,000 and or a six month prison sentence.
Anyone who has any information regarding who may have shot this duck to contact the RSPCA cruelty line on 0300 1234 999.
Related