WikiLeaks founder Julian Assange has announced he will run for Senate in the 2013 Australian elections, despite having been holed up in the Ecuadorian embassy in London for the last six months.
The 41-year-old's mother, Christine Assange, has already pledged her support for son's political ambitions on Twitter.
"He will be awesome" she told Australian news agency AAP.
"In the House of Representatives we get to choose between US lackey party number one and US lackey party number two - between the major parties.
"So it will be great to 'Assange' the Senate for some Aussie oversight."
Australian-born Assange skipped bail in June and is seeking asylum in the South American embassy in an attempt to evade extradition to Sweden where he faces questioning over allegations of sex crimes.
The whistleblower fears he will be extradited to the United States to face charges over the activities of his WikiLeaks website if he is first sent to Sweden.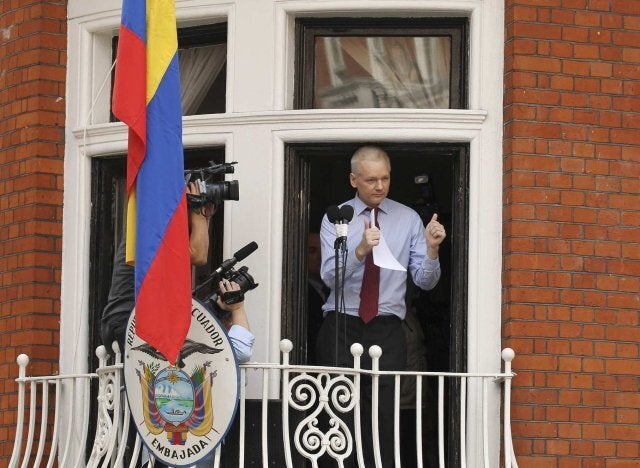 Assange has only appeared by videolink or on the balcony of the Ecuadorian embassy
His political ambitions were first made public in December, saying in an interview with Fairfax media that he hoped to set up a WikiLeaks political party to facilitate his election.
He said that plans to launch a political party were "significantly advanced'' and that "a number of very worthy people admired by the Australian public" had told him they would also stand as candidates alongside him.
Elections have been set for September 14, however it is unclear how Assange will stand, as he will be arrested as soon as he sets foot outside the Ecuadorian embassy in Knightsbridge.
WikiLeaks has quoted the Australian constitution, stating that only if Assange is unable to enter Senate for more than two months could they vote to replace him with a member from the same party.
"If LNP + ALP vote to expell Assange from the Australian Senate after his election, we will have a real cracker in Australian politics." they added on Twitter.
Popular in the Community