The BBC has commissioned a second series of hard-hitting crime drama 'Ripper Street'.
Set in Victorian London in the aftermath of the Jack the Ripper murders, the BBC1 series sparked complaints about on-screen violence.
But a large audience of more than seven million tuned in for the Sunday night drama, featuring Matthew Macfadyen as Detective Inspector Edmund Reid, and co-starring Jerome Flynn and Adam Rothenberg.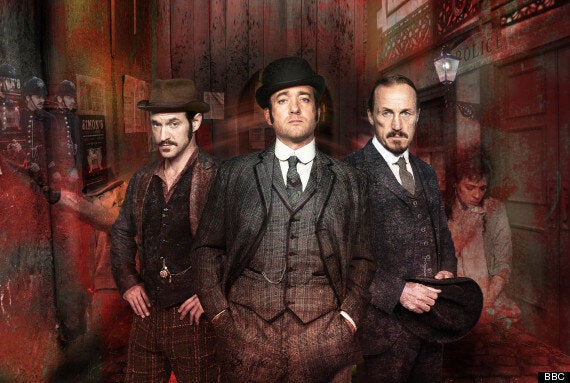 Captain Jackson (Adam Rothernberg), Edmund Reid (Matthew Macfayden), Bennet Drake (Jerome Flynn)
A new series of eight episodes will be broadcast next year.
BBC drama commissioning controller Ben Stephenson said: "Quality and ambition run through Ripper Street, from Richard Warlow's original scripts, the incredible cast and the captivating direction.
"All combine to create a period series with a modern and gripping edge that will return for a second series in 2014."
Warlow, the drama's creator as well as writer, said the second series will feature "the death rattle of a century coming to a close" and "the labour pains of a modern world on the rise".
Will Gould, head of drama at production company Tiger Aspect Productions, said the new series would take viewers "on another unforgettable walk on the wild side of 1890s Whitechapel".
The BBC recently defended the drama, following complaints that it was too violent for its time slot.
"Ripper Street is a strong and gritty series set in the East End of London at the end of the 19th century and we have tried to be true to the period," the broadcaster said. "We scheduled it after the 9pm watershed and made sure the content was widely publicised as well as giving a warning before each episode as necessary so the audience would know what to expect." Jerome Flynn and Adam Rothenberg
Related