A new Facebook app entitled 'Bang with friends' allows you to take the 'poking' facility of the social network to a whole new level.
Brushing niceties aside, the app simply allows you to click on the pictures of your friends, who, in the words of the app, you are 'down to bang.'
The button then changes from a blushing pink to an bolder blue, and shows 'awaiting bang' beneath their face.
However your Facebook friend is only notified if they too are 'down to bang' saving the embarrassment of potentially proffering an unrequited poke.
The app then kindly informs you that the rest is 'down to you,' in a suitably NSFW diagram.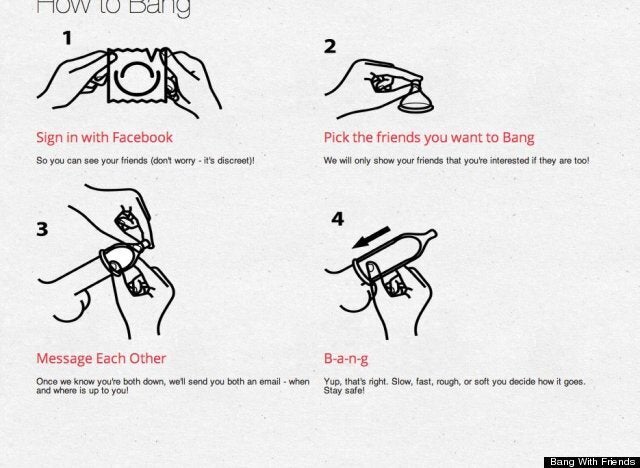 A diagram explains the concept
Invented by a group of Californian college guys, the app is, as you may expect, rather rough and ready. The first thing that greets you is a half naked girl pulling her dress over her head and provocatively twisting her toes.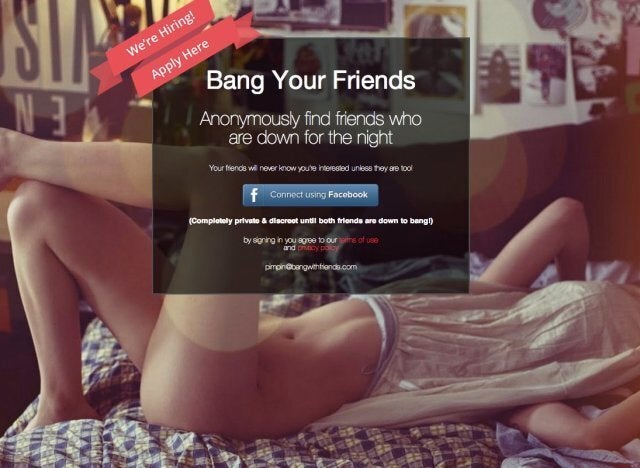 Would you bang your friends?
After signing up KISS KISS BANG BANG is emblazoned across the screen and then the app commands you "Skip the chatting, and get to smacking those cheeks!" and adds "Which of your friends do you want to bang?"
However this serious approach to messing around was the whole point of the app, creators told The Daily Beast, and after all arent lives romanticised enough on Facebook?
"By being honest and forward, we're taking the no bullshit approach [to sex]," they said, explaining how the brainchild was conceived.
"One night, we were shooting the shit about how online dating is broken. What a lot of people want is just to skip all the shit and get to the sex," they concluded.
Related