Double Olympic gold medallist Mo Farah and his wife Tania have criticised the Government over school sport funding cuts and called on the coalition to protect the legacy of the Games.
Mrs Farah, who is helping her husband set up the Mo Farah Foundation, said the cuts, six months after London 2012, were a "huge shame" and "counterproductive".
She criticised cuts to sport at grassroots levels, and said more should be done for sport in state schools, particularly at primary level.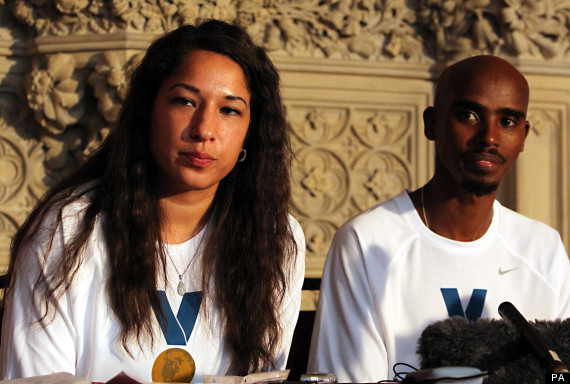 Mo Farah won two golds at last year's Olympic Games
Speaking to the Observer, Mrs Farah said: "Having both come from a school where PE at grassroots level was widely accessible, taught and encouraged, Mo and I are acutely aware of the impact such a positive system can have on the younger generation.
"It was this particular system, along with the 'eye for talent' and useful knowledge from teachers such as Alan Watkinson (Mo Farah's former coach) that opened up the path of success for Mo.
"It is therefore a huge shame that six months on from the Olympics, which inspired the next generation of potential Olympic champions, there are to be budget cuts in primary PE and school sports partnerships.
"Not only should sport for youngsters be encouraged and practised on a regular basis for health reasons, but is is also at these early stages that gifted youngsters are 'discovered' and nurtured - Mo being a leading example of this."
Under the School Sport Partnerships, PE teachers at secondary schools could be released to teach at primary schools. But funding for the project ends this summer, the newspaper said.
Mr Watkinson, who coached Farah during the early days of his career at Feltham Community College in Hounslow, Middlesex, also accused ministers of a "dereliction of duty" over school sport and support for primary school teachers.
Mr Watkinson, who runs a sports partnership in west London, told the Observer: "I doubt I could ever feel a greater sense of ecstatic emotion that I did last summer.
"Mo is very grateful for the opportunities he was afforded at school and he and his family constantly engage with schools as part of the charitable work of the Mo Farah Foundation.
"They share the frustration of a large number of people that six months on there is no tangible commitment to a school sporting legacy.
"This was a new dawn for sport in this country. Suddenly everybody got the power of sport. Together we were all going to inspire a generation and provide a legacy for the children of the world.
"Unfortunately, nobody mentioned this to (education secretary) Michael Gove who steadfastly stands in the way of meaningful progress in delivering high quality physical education and school sport across this country."
Farah won the 5,000m and 10,000m finals at the London 2012 Olympic Games.
The Mo Farah Foundation is planning a UK initiative encouraging children into sport and supporting talented under-privileged youngsters.
It also provides aid to Somalia and is planning to set up an orphanage and sports academy in the country.