David Minto, 22, has been charged with the murder of 16-year-old Sasha Marsden in Blackpool, Lancashire Constabulary said on Sunday night.
Minto, of Kirby Road, Blackpool, will appear at Blackpool Magistrates' Court on Monday.
Miss Marsden was found in a rear alley behind Kirby Road in the South Shore area of the resort on Thursday night.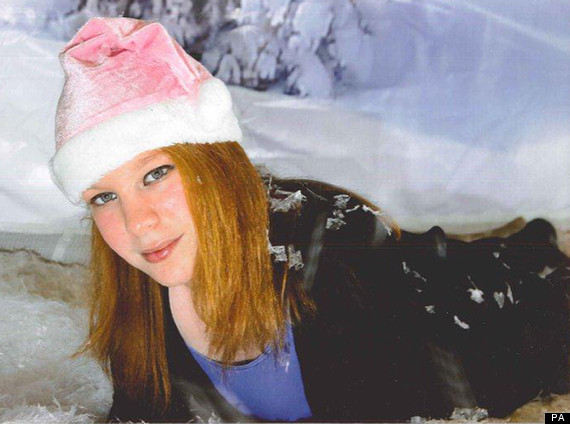 Sasha was savagely attacked last Thursday
She had been repeatedly stabbed in the head and face before attempts were made to set her body on fire.
A spokesman for Lancashire Constabulary said: "Tonight, the Crown Prosecution Service has authorised Lancashire Constabulary to charge a man with the murder of Sasha Marsden.
"David Minto, 22, of Kirby Road, Blackpool has been charged with murder and has been remanded into custody to appear before Blackpool Magistrates' Court tomorrow morning.
"The family have been informed of the latest development and specially trained officers continue to offer them support."
Tonight Miss Marsden's family laid flowers at the scene where her body was found. They later left without comment.
In a statement issued through Lancashire Constabulary, her parents Gary, 40, and Jayne, 45, from Staining, Blackpool, said: "No words can express how we feel. Our beautiful daughter has been taken from us.
"She was a loving daughter, sister, granddaughter, great granddaughter, auntie, niece, cousin and girlfriend. She was very much loved and her loss has left a huge gap in all our lives, a gap that can never be filled.
"Sasha was your typical teenager, a fun-loving girl who enjoyed spending time with her friends and boyfriend, with her parents being last on the list unless she wanted something or needed a lift somewhere.
"We would ask that we be left alone in private to allow us to come to terms with losing our beautiful precious daughter."
Other heartfelt tributes were paid to the Blackpool and The Fylde College childcare student by her siblings.
Her brother, Mark Brett, 24, said: "She was my little sister and I was so proud of her going to college to do her child care course.
She will be missed by all her family and friends."
Sister Katie Brett, 21, said: "She is a gorgeous little lady and knows how to make an impression and when you meet her, you would never forget her. She was an expert wind-up merchant and although you might be annoyed with her, you couldn't stay mad with her for long."
Another sister, Gemma Aitchison, 26, said: "Cheeky, friendly and stubborn are all things that make Sasha as special as she is and make her overcome anything. She is a beautiful sister and a wonderful and caring aunty too."
Brother Thomas Nicholl, 21, said: "Sasha was an adorable little sister and was never afraid to put her opinions across no matter what the situation was. She always knew how to make us smile, especially after winding us up. She gave the most amazing cuddles and we will miss her so much."
Passers-by were reported to have thought the body was a shop dummy that was burning in Kirby Road in the resort's South Shore area.
A 20-year-old woman arrested on Thursday night was released without charge.